As the Welsh Government has eased travel restrictions, visitor facilities around the National Park are beginning to open. However, life has changed, so a visit now will be different and we must all continue to take action to stop the spread of Coronavirus and keep Pembrokeshire safe.
We are asking anyone considering a visit to the National Park to respect the land, community and each other, and play your part in moving out of lockdown safely together.
If you are going to visit the Pembrokeshire Coast please plan ahead before you come.
While we were away, nature reclaimed our National Park. We want to keep our part of Pembrokeshire's paradise safe as we begin to explore outdoors again, so we ask you to tread lightly. Follow the Countryside Code and leave only footprints.
Quick links to information and advice
What do I need to do?
Know the latest guidance – check the Welsh Government website for the up-to-date advice and be sure to follow social distancing and hand hygiene measures at all times.
Plan ahead before you travel – check for any disruption to your planned route and destination. Some car parks and other facilities remain closed for the time being. Bring your own food and drink and take your rubbish home with you.
Adapt to the situation – if you arrive at an area and it feels too busy then it is too busy. Have a back-up plan in case you need to move on.
Be kind to our communities and each other – be mindful of local residents and communities who live and work in the areas you are visiting, please be kind and remember the three 'R's:
Respect the Land

Respect the Community

Respect each Other
Follow the National Park Authority on Twitter and Facebook to be kept up to date of the latest developments in the Park.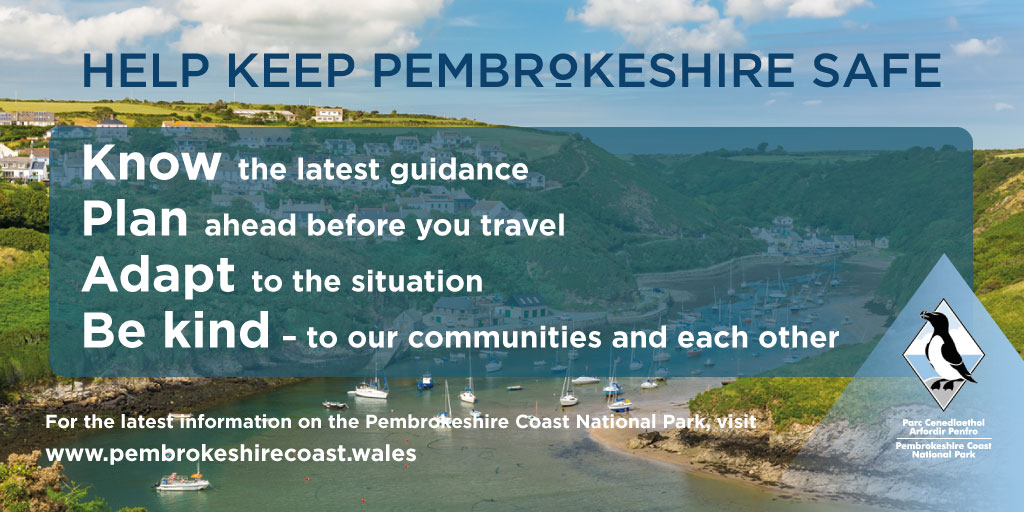 What to expect when you get here
Areas including our main beaches may be busier than usual, especially during periods of good weather. There will be many places you will want to revisit in the National Park now that some restrictions have been eased. If it feels to busy, it is too busy. Please be flexible and be prepared to move on and save that experience for another day.
Things may take longer than usual. Be prepared for queues at toilets, car parks and other facilities as people will need to following social distancing and hand hygiene measures.
New signage and guidelines will be in place at key locations to help you enjoy your visit safely. Please read and follow them carefully. Remember to keep your safety, that of your families and our communities as a first priority.

Car Parks
All National Park Authority-managed car parks are now open. For more information visit our parking page.
Footpath network
The footpath network is open in line with Welsh Government guidelines. For more information visit our Covid-19 (Coronavirus) Walking Guidance section.
Tread lightly in the Park
Please ensure you enjoy the outdoors responsibly and follow any on site advice and adhere to the Countryside Code.
Connect with nature virtually
If you cannot leave your home or travel to the Pembrokeshire Coast National Park you can still connect to the nature of the Park through our social media channels, our website and our online version of Coast to Coast.
Like the National Park on Facebook, Twitter and Instagram
Development Management (Planning) Service
The Authority's Development Management service has continued to operate as far as practicable during the Coronavirus restrictions.
Our website is operating as normal with access to Development Management Committee agendas, papers and minutes as well as normal public access to the detail on planning applications.
The Authority's offices remain closed and staff will not meet applicants or members of the public for the time being.
Development Management staff can be contacted by phone and email. Development Management Committee meetings will be held virtually and can be viewed via a live video stream with details of how to watch on the website.
The Development Management Committee will not undertake site visits while the Coronavirus restrictions are in place. Decisions by the committee will be based on the information supplied with an application and presented to them in reports, representations and other presentations.
Contact Pembrokeshire Coast National Park Authority Staff
The Authority's offices and visitor premises remain closed to the general public.
If you wish to contact the Authority, please phone 01646 624800, email info@pembrokeshirecoast.org.uk or use the form on our Contact Us page.