How to make an application to enter Castlemartin Range West for the 2021 season.
Activities on Range West are limited to fishing, surfing, climbing and caving. General walking along the coast is not permitted. If you wish to do this please book a place on one of our guided walks via our events calendar.
How to gain access to Range West
Two steps are required to access Range West of the Castlemartin Range Complex:
You must watch the Castlemartin Range Recreational Access Brief presentation
Print off and complete the Castlemartin Range Access Application Form and hand it to the Guard on your arrival.
Access
Access will only be granted if there is no military training taking place. You can see the published firing times on the Gov.UK website.
Castlemartin Range is available for firing 44 weeks a year; with two night firings a week on non-consecutive nights (usually Tuesday and Thursday but sometimes Monday and Wednesday).
No firing takes place at weekends or Bank Holidays.
Major access periods are when we are carrying out maintenance and no firing is taking place, these are:

Easter – two weeks (29 March-9 April 2021).
Summer – August complete.
Christmas – two weeks (21 December 2021-3 January 2022).
All weekends and bank holidays throughout the year.

You must check before coming to ensure there have been no changes to the military training plan that will impact on your recreation. Tel: 01646 662367.
Booking On/Off Range West
Once members of the public have watched the Castlemartin Range Recreational Access Brief presentation, they are to print off the Castlemartin Range Access Application Form and take it to the Guardroom on their first visit. The applicants details will then be put onto the system. Access will then be granted. NO APPLICATION FORM, NO ACCESS. Electronically sent forms will NOT be accepted.
One permit = one person! Do not bring along friends and family. They will be denied access! The number of passes available each day will be increased to 50 during 2021. Please ring to check there are passes available before you travel.
Your photo will be taken and a pass issued. You must keep your pass on you at all times and produce it when asked to do so by a member of the Castlemartin Range Staff or a National Park Ranger.
On subsequent visits the guard will check your eligibility to gain access to the Range. (No need to bring the application form again).
Collect a Handout from the Guard. This contains all the main points from the briefing presentation including relevant telephone numbers.
If climbing or caving collect a Restriction Map from the Guard.
Access is then from 2 points, either at Gupton Gate or Stack Rocks.
All routes are clearly marked with inter-visible white posts, you must not deviate from these routes until you get to the area were you are going to carry out your activity. You must remain between the posts and the sea, do not venture inland.
Once you have completed your activity you must book off the range at the Guardroom by handing back your pass.
Do not take your pass home, as this will cause the guard to think you are still on Range and you are in difficulty. If you cannot be contacted by phone a range sweep will then be required and the emergency services may be called.
Mobile phone signal at Castlemartin is very poor and should not be relied upon. There are yellow Range emergency telephones located throughout the Range that are linked direct to the Guardroom.
Castlemartin Range Access Points & Emergency Phones
All telephones are linked to the Guardroom. Simply pick up the phone and the guardroom will answer.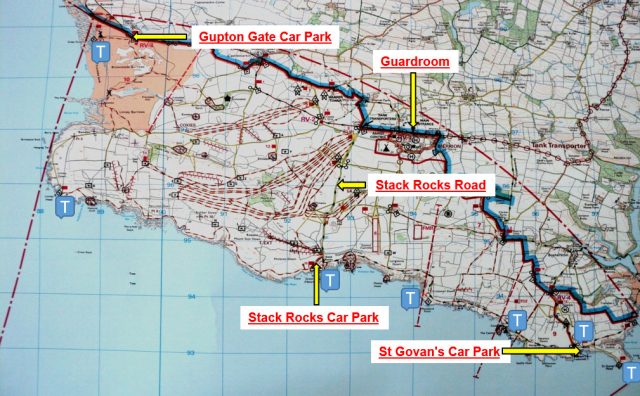 Do's and Don'ts
No fires.
No pets.
No personal Fire Arms.
No drones.
No overnight camping or parking is permitted
No digging Bait on the beach.
Legislation states that Bass fishing can be conducted all year round, however, there is a limit of 2 Bass per person per day between 1st April and 31st October, with a minimum size of 42cm. Outside these dates it is catch and release only. Anybody ignoring these rules will be reported to the relevant authorities.
The minimum age for access is 18 years old.
When you leave the Range, take all your equipment and rubbish with you.
Self-policing, un-briefed members of the public may try and follow you onto the Range. Check to see if they have a pass; if not ask them to leave the range. Do not get into an argument or altercation! Please report them to the Guardroom when you sign off.
Areas Out Of Bounds
Anywhere inland of the track, i.e., white posts.
All targets, especially hard targets; such as old military vehicles
Any area that has a date restriction on it (climbers/cavers). All known nest sites are marked with red pots. Do Not climb/cave between pots marked with the same letter or number from 1st March until further notice. Check restriction maps and cliff-top notices for the latest information.
Cavers may look for potential areas to cave but must not enter caves. If you see anything of interest please get in touch with the PCNPA Ranger.
No further south than Frainslake Beach (fishing and surfing).
All brick builds and electrical installations.
Unexploded Ordnance
Castlemartin Range complex has been in use since 1939. It has been used by UK, German, American, French, Dutch and Belgium forces. To this end there is an amount of unexploded ordnance on the Range most of which cannot be identified as over time the elements have degraded it by rusting the outer shells, meaning there are no colourings or markings to help identify what they are. Under no circumstances are any belay stakes to be installed and ropes are not to be attached to any MOD property. Cavers are not permitted to install Bolts on any area of the Range.
Nothing is to be touched, kicked, picked up or taken for souvenirs.
DO NOT TOUCH, IT WILL KILL YOU
Follow the three Rs of Expl0sives Safety:
RECOGNISE – If in doubt, assume the worst
RETREAT – Do not touch! Mark location and back off
REPORT – To guardroom when signing off
Conservation
Castlemartin Range is important for many species, including cliff nesting birds such as chough (below), peregrine, razorbills and guillemots. All known nesting sites will be marked with red painted pots (below) or cliff-top notices. Do not climb/cave between pots with the same number or letter from 1 March until further notice. Please avoid all nest sites even if not marked. Check restriction maps and cliff-top notices for the latest information.
Seal pups are born from mid-August to November in our bays and coves. Please avoid all areas where you see seals and/or pups at this time.
Fishermen/women please use hooks that will straighten and biodegradable line to prevent injuries to wildlife.
Application Form/Summary
2 Steps are required to access Range West of the Castlemartin Range Complex.

You must watch the Safety Brief.
Print off and complete the Castlemartin Range Access Application Form and hand it to the Guard.

Once this is done you can gain access to Range West but you must adhere to all the conditions set.
You must comply with the booking on and off procedures.
Failure to follow the rules will result in the loss of your ability to use Range West for recreational purposes.
Activities on Range West include, Fishing, Surfing, Climbing and Caving. General walking along the coast is not permitted. If you wish to do this then you must register for a guided walk via the Pembrokeshire Coast National Park Authority website.
The general public can gain access to the Coast Path on Range East if there is no red flag flying indicating there is no firing taking place.
You must follow the white posts ensuring you are between them and the sea on well defined tracks.
Do Not Stray into the Range!
Access In A Nut Shell
Telephone prior to travelling to Castlemartin to see if access can be gained.
Automated Telephone Number giving access availability 01646 662367
Guardroom 01646 662280
TSM (Office Hours) 01646 662306
PCNPA Ranger – Lynne Houlston 07866 771188/ lynneh@pembrokeshirecoast.org.uk
Please adhere to all COVID 19 restrictions and social distancing rules.
Go to the Guardroom and book in. Photo taken and pass issued.
Comply with any extra instructions given by the Guard. Collect Handout and Restriction Map.
Gain entry by the authorised access points.
Stay on the authorised routes.
Carry out your activity.
Take all your equipment and litter off the Range.
Leave the Range via authorised routes and access points.
Go back to the Guardroom and book off the Range (hand pass back).