£47,000 of SDF funding helped Western Solar Ltd to design and construct this working prototype of an affordable eco-home ie a three-bedroom home, constructed entirely out of Welsh timber, that can generate enough solar electricity to meet all of its own energy requirements and be able to store or export any excess generated for revenue.
What did the project aim to achieve?
To develop low density affordable housing and microgeneration in an integrated unit
To develop an eco-home with a Code for Sustainable Homes rating of a least four or (preferably) five
To source 80% of materials and expertise in Wales
To create supply chains, local employment and training opportunities
To promote the structural use of native Welsh softwood
To change the perception and awareness of timber built homes.
How was Ty Solar delivered?
The prototype has successfully demonstrated that it is possible to construct the house from native Welsh softwood; wood in fact from the Gwaun Valley.
Whilst the prototype was built under plastic at Western Solar's site at Rhosygilwen, the future plan, to minimise construction times and costs, is that modules or components will be made off-site in a local factory set up specifically for the purpose.
Welsh wood was also used in the construction of the window frames, which together with the glazed units that are to German Passive Haus standard, were made by a Pembrokeshire joinery company.
Eleven inches of cellulose insulation made from recycled newspaper ensure the walls are highly insulated and the breathable membrane is also made in Wales.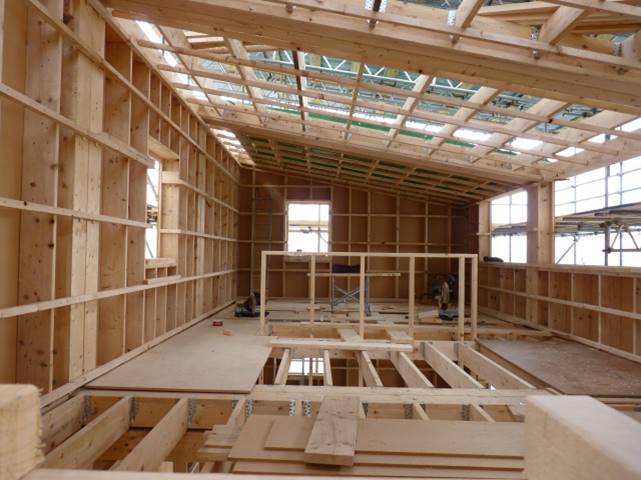 From the picture above showing construction of the second floor, you can see the sloping roof, on top of which sits 8kw of photovoltaic integrated roof panels. These reduce the net annual energy bills to zero and demonstrate the potential to produce about £650 net income for a property. There is also the potential for excess energy generated to be stored in batteries which could contribute to energy security in more remote rural areas.
Overall, the handbuilt, Welsh wood, two-storey, three-bedroom, two-bathroom, 100m2 house uses only 12% of the energy that a conventionally built property an equivalent size would use!
It has achieved level five of the Code for Sustainable Homes.
But, not only has the prototype demonstrated the environmental benefits of using locally sourced natural materials and high energy efficiency resulting in lower CO2 emissions, it has also demonstrated social and economic benefits too. It has been built to address a shortfall in the affordable housing sector; costing just £75,000 to buy (excluding building plot) it is not only economical to live in but to purchase as well.
By sourcing 80% of the materials and labour locally it secures a sustainable supply chain, will create skilled and semi-skilled manufacturing jobs and provide training to plug any skills gaps identified.
An employed skilled workforce helps the local economy and brings associated well-being benefits. Importantly it also proves a viable construction use for low grade Welsh timber that could improve the commercial viability of local woodlands. Better managed woodlands are in turn better for ecosystems and biodiversity.
Lessons Learned
Construction requires a skilled workforce for which there is a training requirement locally
The box beam method of construction used in the prototype added to the cost and build. time and will therefore be replaced with a simpler but effective slab and panel construction technique to give the required construction strength from the low grade local timber.
Building on concrete pillars was not cost effective. The pillars used 9m3 of concrete as opposed to 15m3 but cost an additional three weeks of time to get the levels correct.
What next?
The prototype eco-home was unveiled by the First Minister in the autumn but the next phase of the wider project vision is to commercialise the prototype for sale as a prefabricated house. In so doing they will create ten semi-skilled local manufacturing jobs, including at least five apprenticeships. It is also hoped that this will create further jobs for suppliers.
A factory site has been established in North Pembrokeshire and the company has also found suitable land where it plans to build six of the energy efficient homes based on the prototype. These will showcase real rural contemporary sustainable living.