If you're thinking of volunteering with the National Park Authority, but are unsure of which role would suit you best, read some of these testimonials from people who've enjoyed helping out in various roles.
Activity Volunteer
I really look forward to my volunteering events at Oriel y Parc and around the St Davids area. I know I will spend the time with cheerful, positive people and it will be very much a team event. There is always something new to learn either about the event or from the participants. Speaking with participants about the place and language I am proud of what I do and it really makes my heart sing!
Activity Volunteer
Walking with groups is physically and mentally stimulating. It is a privilege, as a volunteer, to offer this benefit to others whilst meeting new people and sharing the amazing beauty of Pembrokeshire.
Voluntary Warden
I was fortunate enough to retire relatively young, plus reasonably fit and returning to Pembrokeshire after 32 years which led me to volunteer as a Warden with our National Park. I wanted to do something based outdoors, fairly physical and being a massive fan of the Coast Path and walking I believed both concepts complemented each other.
My local Ranger advised me that the work could be therapeutic and inspiring and also I would see parts of Pembrokeshire not accessible to the public. Well she was absolutely correct in her description! Three years on, I now work with two North Pembrokeshire Ranger parties, and assist with the Park Authority's events programme.
I attend whatever training courses I can, and I am now qualified to use a strimmer in the public domain. I have also enrolled with the Authority's amazing Pathways project. The most attractive thing for me is the variation in tasks: you could be conducting a hedgehog survey on top of the Preseli Hills one day and then working with full time staff dismantling a roundhouse at Castle Henllys Iron Age Village, with all the expert machinery and teamwork that demands or helping a Ranger with a Bitesize Bushcraft event for under ten year olds in Pentre Ifan woods.
You will not need a gym membership if you enrol as a Warden! You will encounter like-minded people from all social and employment sectors but you find you have one thing in common, a most active desire to help the National Park Rangers and staff who are all passionate about our National Park and deserve and really appreciate all our support in their efforts.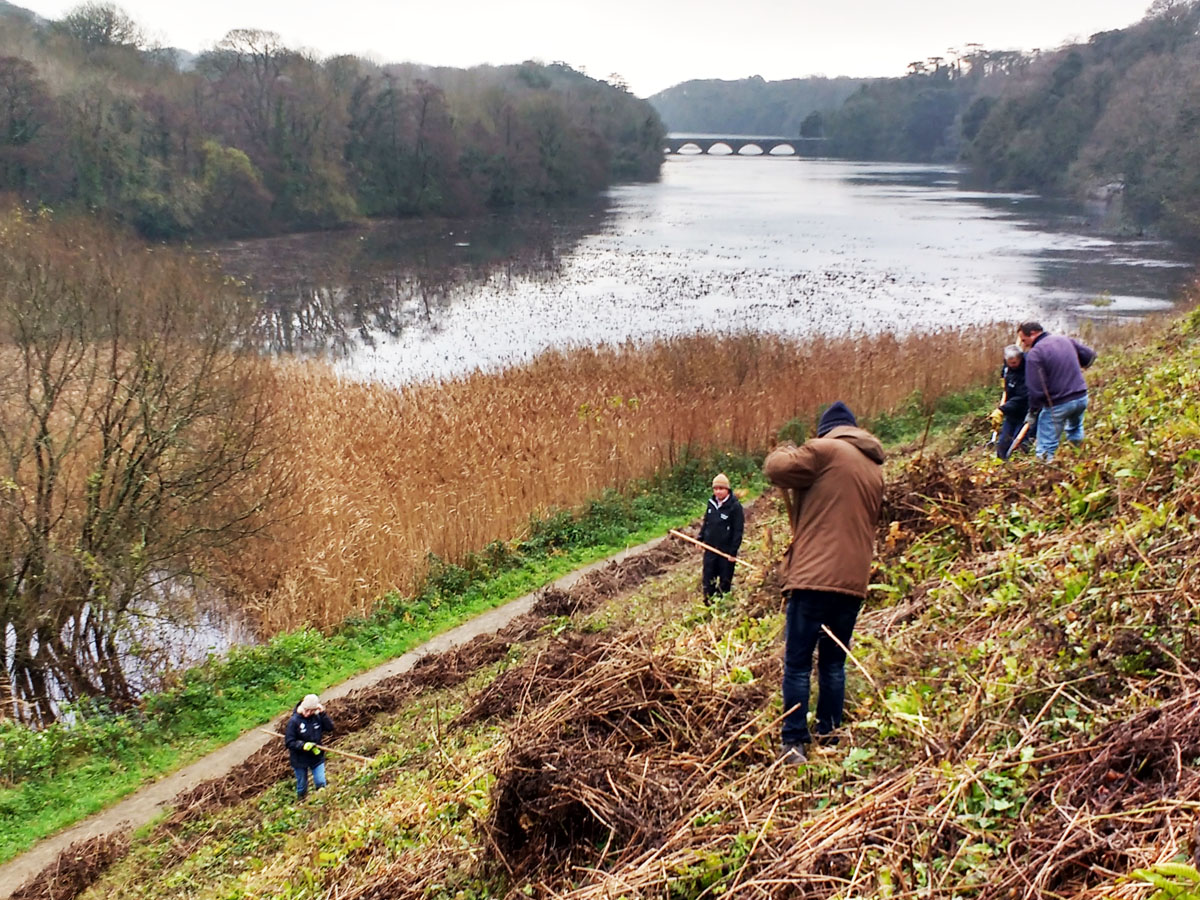 Voluntary Warden
This is the 11th year I have been undertaking web walk footpath surveys for the Authority's Warden Manager Phil Lees, covering all the Web Walks (listed on the National Park Authority's website) from Goodwick to Milford Haven, a distance of over 200 miles. My role is to check and report back on all the paths for obstructions, blockages, way marking and other potential issues such as stiles and gates requiring attention.
When I moved to Pembrokeshire 12 years ago, I worked for two years at Oriel y Parc. I had been doing a similar job as a Footpaths Officer for Shropshire County Council and so I had transferable skills that could be used here. It was also a great way to explore this part of Pembrokeshire and get to know the area. Now retired and having an active dog, it remains a good way to exercise both of us, although I am slowing down a bit!
Phil always says my work is of immense use to him, in managing his teams and keeping rights of way open and in good condition with the National Park Authority not having the staff resources to do this work. He is also able to pinpoint where his teams need to work.
With Phil's agreement, I have extended the survey period from about June to October each year to give me more time to fulfil this work.
Gallery Volunteer – Oriel y Parc
I have been familiar with Oriel y Parc since it opened. I have always found something of interest to see there, particularly the Gallery.
As a member of St Davids and Solva Art Group I have been involved in our exhibitions held there and I noticed one day that volunteers were needed for some of the National Park activities so I asked if I could be of any help. Yes please, was the answer.
I am now stewarding in the gallery, for an hourly session at a time, ensuring that the exhibits are safe. I also find that some people like to ask questions and I do my best to answer them and suggest that there is a guided tour on Tuesday mornings by the Friends of Oriel y Parc's Rod Williams which they would find very interesting.
I look forward to going over to steward; the full-time staff are so friendly and helpful. I have to add that I am a senior citizen who enjoys meeting people.