Facts and statistics about the Pembrokeshire Coast Path National Trail.
Name: Pembrokeshire Coast Path National Trail
Location: Pembrokeshire, South West Wales
Length: 186 miles. 299km (Route approved July 1953. Opened  16 May 1970)
Users: 10% road, 7% MOD road alternative *, 2% high tide road alternative *, 0.3% boat. Off road:  77% footpath, 2.6% bridleway, 0.4% cycle track.
* Careful timing can avoid some road sections
Number of days to complete: 10 to 15
Highest Point: Pen yr Afr – 175m
Lowest Point: Sandy Haven crossing – 2m above low water
Total rise and fall over entire Trail: approximately 35,000 feet.
Total stiles to cross:
540 in 1993
400 in 2001
298 in 2003
181 in 2006
108 in 2008
25 in 2020.
Total gates (2018): 475
Total bridges (2018): 149
Total signposts (2018): 530
Total flights of steps (2018): 273
Total steps (2018): 3779.
Highlights
Over 50 beaches
Over 40 Iron Age promontory forts
Norman/ Medieval castles/ towns (notably Tenby, Manorbier and Pembroke)
Chain of Napoleonic and later forts
Scores of lime kilns and other industrial archaeological remains
Series of picturesque ports (eg Tenby, Solva, Porthgain)
Innumerable secret coves
Bosherston Lily Ponds
Birds and flowers
Bilingual culture / Landsker Line.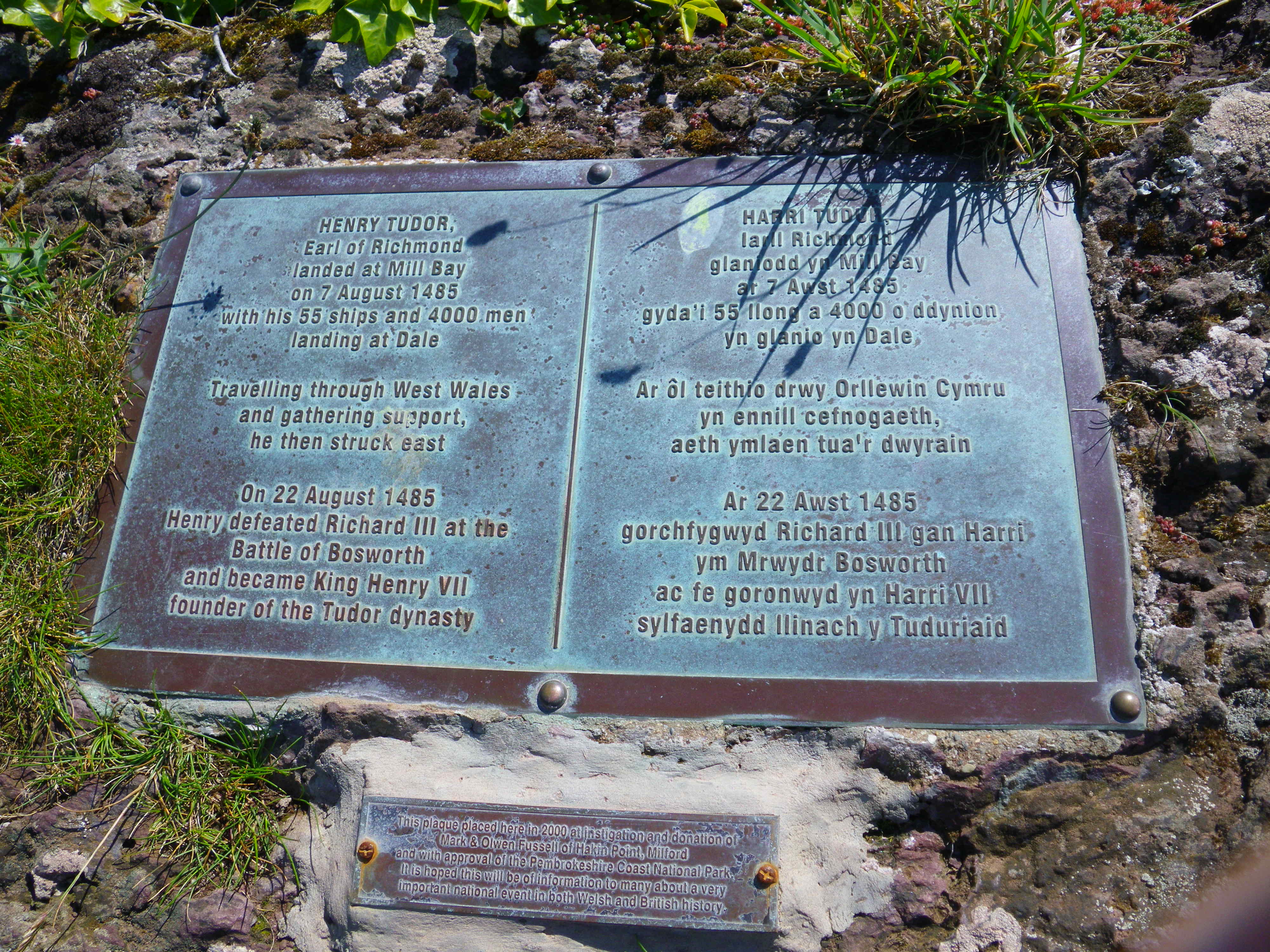 Famous Associations
Hubba (Norse warrior defeated by King Alfred)
Gerald Cambrensis
Henry VII
Black Bart (pirate)
Last invasion of UK (1797)
Admiral Nelson
Gordon of Khartoum
Isambard Kingdom Brunel
First flight to Ireland
RM Lockley
First footfall of Prince Charles on Welsh sand (1955)
Sea Empress.
Nearest Towns: Saundersfoot, Tenby, Pembroke, Pembroke Dock, Neyland Milford Haven, Broad Haven, Solva, Goodwick, Fishguard and Newport (Pembrokeshire) are all on the Trail.
The City of St David's is one mile away, Haverfordwest six miles, Cardigan two miles, Carmarthen 30 miles Swansea 50 miles, Cardiff 90 miles.
Access: Roads – M4, A40 & A477. Cardiff to Carmarthen 2 hours by train (Cardiff to Tenby 2.5 hours, bus back to Amroth 40 mins). Trains also go to Haverfordwest, Pembroke Dock, Milford Haven and Fishguard Harbour.
Bus: Carmarthen to Amroth via Pendine –1 hour. Carmathen to Cardigan – 1.75 hours. More buses to parts of the Trail from Haverfordwest. Walker or service buses cover most of the coast. Details from website or Pembrokeshire County Council enquiry line 01437 775227.
Start-Finish Points: South – The bridge east of Amroth Castle. North – The slipway north of St Dogmaels, Cardigan (the north plaque is at Poppit Sands)
Information: National Trail guide by Brian John – Aurum Press ISBN =978-84513-563-8.
Part of the Wales Coast Path and the International Appalachian Trail.
Links to the Ceredigion Coast Path in the North and the Carmarthen Bay Coast Path in the South,
For more information contact us via Pembrokeshire Coast National Park, Llanion Park, Pembroke Dock, Pembrokeshire, SA726DY, call 01646 624800 or email pcp@pembrokeshirecoast.org.uk.
Discover more about the Pembrokeshire Coast Path