A renewable energy system greatly improved everyday life on Ramsey Island in the Pembrokeshire Coast National Park.
The RSPB successfully installed a 7.5m high wind turbine and photo-voltaic array to supply "green" energy to the buildings on their Ramsey Island Reserve. The project, which received a funding contribution from the Sustainable Development Fund, involved:
The installation of a fully automatic battery inverter system supplied with electrical power by a four panel PV solar array, wind turbine (height 7.5m) and new generator to power the farmhouse (including visitor shop) and other farm buildings
The installation of a separate automatic battery inverter system supplied with electrical power by solar panels and a new generator to power the volunteers' accommodation.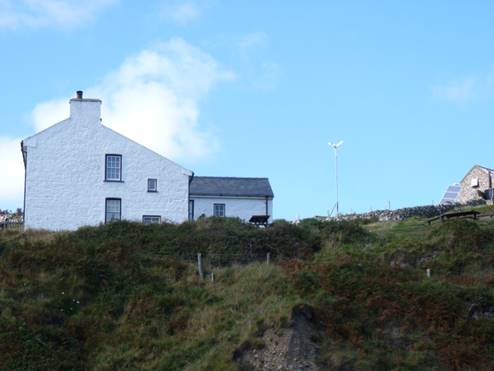 The island has no mains electricity and previously the only source of power was a single ten-year old diesel generator.
By securing a more reliable source of power from nature, the RSPB has reduced their reliance on fossil fuels and also their fuel costs and carbon dioxide emissions, without compromising the great natural beauty and wildlife on the island. Money saved from fuel costs will be re-invested into the management of the site, including habitat, visitor and community work.
The project has demonstrated successful integration of appropriate renewable technologies into a very special and sensitive landscape. Through their interpretive work and raising awareness with those visiting the island, the RSPB will also be able to inspire others towards a more sustainable way of living.
Lessons learned:
Sufficient time needs to be allowed to obtain planning permission and advice and discussion with the planning authority needs to commence at the planning stage
Contractor needs to be involved at the outset and plan in contingency time for any unforeseeable events
Take into account unexpected weather delays.
Total Project Value: £38,697.12
SDF Grant: £18,998.56