The Stitch in Time project is targeting invasive non-native species (INNS) in the Pembrokeshire Coast National Park, namely Japanese knotweed, Himalayan balsam and rhododendron ponticum.
INNS can out-compete native UK species; physically change ecosystems and damage property. Some, like giant hogweed, can be extremely harmful to human health.
A central aim of the project is to increase awareness among organisations, individuals, communities and landowners about INNS and to build capacity in local communities to monitor and manage them and any re-infestation.
Piecemeal treatment of INNS rarely addresses sources of infection, which implies that treatment will need to continue indefinitely.
Treatment is not cheap – the cost of managing INNS has been put at £1.7 billion per year in the UK – so prevention is better than cure.
As many invasive species spread along water-courses, a joined-up, catchment-based response to control, and subsequent defence of the catchment, would seem to be a cost-effective approach.
The Stitch in Time project has been working in the pilot catchment Cwm Gwaun since 2015 and in strategic areas of the adjacent Clydach catchment in 2017.
Pembrokeshire Coast National Park Authority has also been focusing strategic effort in the Porthgain catchment alongside Cwm Gwaun.
Landowner and community support is key to project success on the ground as well as the expertise from local contractors.
Sustainable Stitch in Time (2019-2022)
A new phase of the project is under way. Sustainable Stitch in Time is funded by the Welsh Government's Enabling Natural Resources and Well-being scheme (opens in new window) until 2022, with assistance from Dŵr Cymru and Pembrokeshire Coast National Park Authority.
This project will continue to test the catchment-based approach to INNS management in two new areas; the Castlemartin Corse catchment and wider areas of the Clydach catchment. The project will focus on Himalayan balsam and Japanese knotweed control, with assistance from the National Trust, Dŵr Cymru and Natural Resources Wales.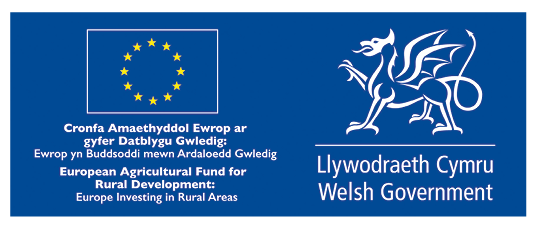 Catchment maps
Click the images to see larger versions of the catchment maps.
Project update
The project will switch from high intensity control at the Cwm Gwaun and Porthgain catchment to a monitoring and maintaining strategy to reflect the success in these catchments whilst also ensuring the reduced resources required to maintain these areas as near eradicated.
This project learning will assist wider Welsh and UK projects to develop a sustainable model to increase confidence in investment in INNS management at a catchment scale. The project will initiate a South West Wales INNS co-operation group and also produce a practical toolkit for the catchment approach to controlling the target INNS.
The maps below show the Cwm Gwaun catchment Himalayan balsam infestation near water (pink) and areas where no Himalayan balsam have been recorded to date (green) 2015 and below 2019.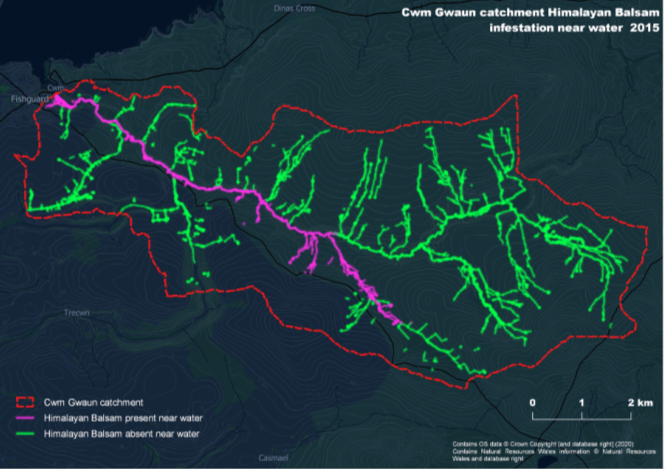 Map showing Cwm Gwaun Himalayan Balsam infestation (2015)
Himalayan balsam spreads near water where it colonizes on the banks of tributaries, ditches, streams and main rivers. It invades further inland into adjacent habitats such as marshy grassland, woodland and hedgerows, creating areas of infestation which can be large and dominated by this monoculture.
A total of 8.5 hectares of land in the Cwm Gwaun catchment is affected by this annual invasive plant ranging from hundreds to thousands of stems.
The 2019 map below shows the status of the Cwm Gwaun Catchment Himalayan balsam infestation as of 2019 where 80% (7 hectares) of land associated with the catchment has been managed effectively via staff, contractors and volunteers using best practice methods and is classed as 'near eradicated'.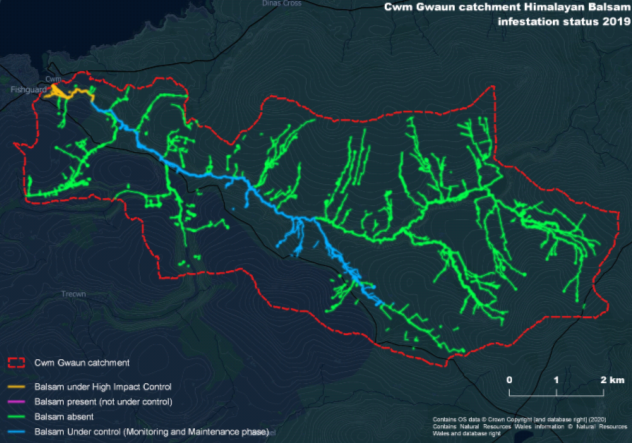 Map showing Cwm Gwaun Himalayan Balsam infestation (2019)
These areas now enter the monitoring and maintenance phase where a much smaller input of time and money are required to ensure the projects investment is safeguarded.
Investing now for future resilience – a true 'stitch in time'
The main lesson that has been learned during the work completed by the project so far, is that by providing a thorough and committed control strategy and adopting best practice and biosecurity, Himalayan balsam can be significantly reduced across the catchment landscape within 2-4 years.
A site can experience a visual change within one season/12 months providing the catchment approach is applied. This does require an investment of time and resources for example to pay for contractors and encourage volunteers and community groups, however investing now will increase resilience of habitats and the landscape for future generations.
Engagement outside the current project catchments
The Stitch in Time Project Co-coordinator will provide advice outside the project catchments but dialogue, co-operation and commitment is key for all parties involved with INNS issues. Pembrokeshire Coast National Park Authority is keen to hear from interested community groups and landowners where a co-operative and co-ordinated approach can be delivered.
The has led to the inclusion of strategic areas of the Moylgrove catchment, where control at source areas could lead to the inclusion of the large infestation at the coastal slope with financial assistance from the National Park Authority and Pembrokeshire Nature Partnership.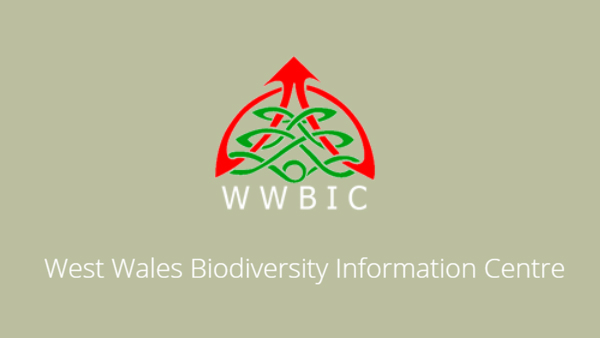 More about INNS in the National Park