Public rights of way include public footpath, bridleways and byways. They provide the best way to explore the coast and countryside of the National Park.
Away from the Pembrokeshire Coast Path National Trail, the network of public rights of way provides access to wooded valleys, moorland, hills and Daugleddau Estuary. In addition to the Coast Path there are over 800 km (500 miles) of public rights of way. The majority of public rights of way are classified as public footpaths, with bridleways representing 20% of the network.
Many of today's public footpaths, bridleways and byways evolved over the centuries as a means of communication in the countryside for people to get to work, school and chapel.
Public rights of way are protected by legislation and they now provide a wide range of access opportunities to explore and enjoy the countryside.
Unfortunately some paths have been neglected through a lack of use and maintenance since their registration in the 1950s.
How to tell the difference between a footbath, bridleway and byway
The National Park Authority also puts up waymarkers along routes to help users follow the Path with confidence and avoid unintentional trespass. These follow a standard system used throughout England and Wales, using coloured arrows to show the direction of the Path.
Yellow – footpaths – walkers only
Blue –  bridleways – walkers, cyclists and horse riders
Red – byways – open to all traffic but mainly used by walkers and horse riders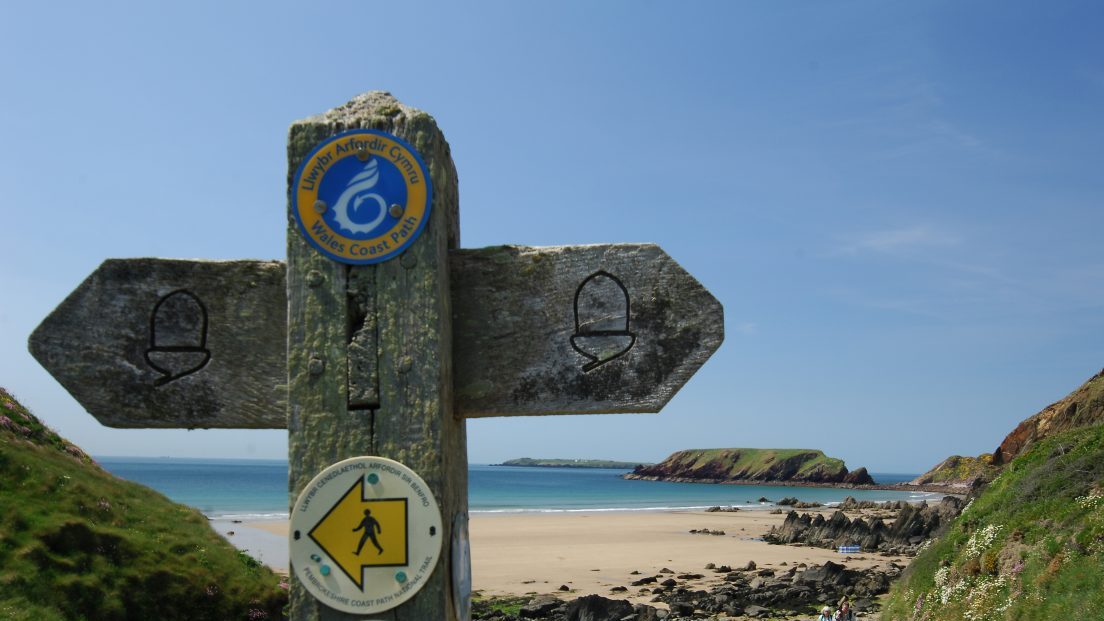 Definitive Map of Public Rights of Way
The Definitive Map is the register of public rights of way. It is a legal document and is accompanied by the Definitive Statement, which provides a written description of each route.
These registration documents are held by Pembrokeshire County Council and together provide conclusive proof of the existence, route and status of all public rights of way in the county, including the National Park. The first Definitive Map was published in 1960. Pembrokeshire County Council is responsible for the continuous review of the Definitive Map.
The consolidated Definitive Map accounts for all the legal changes (creations, diversions, reclassifications and deletions) that have occurred to public rights of way between 1956 and 2010.
Other Maps and Advice
Ordnance Survey maps make an excellent walking companion, as they show all public rights of way. The best maps for walkers and horse riders are the two Explorer Maps: OL 35 (North Pembrokeshire) and OL 36 (South Pembrokeshire) at a scale of 1:25,000.
Remember that most of the paths in the National Park cross privately owned agricultural land. Please respect the Countryside Code and take special care if you are walking a dog in the vicinity of livestock.
The Ramblers Association have advice on safe walking.
If you want to contact us regarding the condition of a public path or a problem you have encountered when using public rights of way, please email us.
More on Access and Rights of way in the National Park