Listen to stories of how the Cleddau Rivers have helped shape the Pembrokeshire landscape and the lives of people who lived nearby.
They remember the past, celebrate the present and look forward to life on the shores in the future.
The stories were recorded to coincide with the William Stott of Oldham, Le Passeur (The Ferryman): Reflections on a landscape exhibition at Oriel y Parc Gallery and Visitor Centre in 2018. Most were recorded on location, at the points of old ferry crossings on the Cleddau Rivers.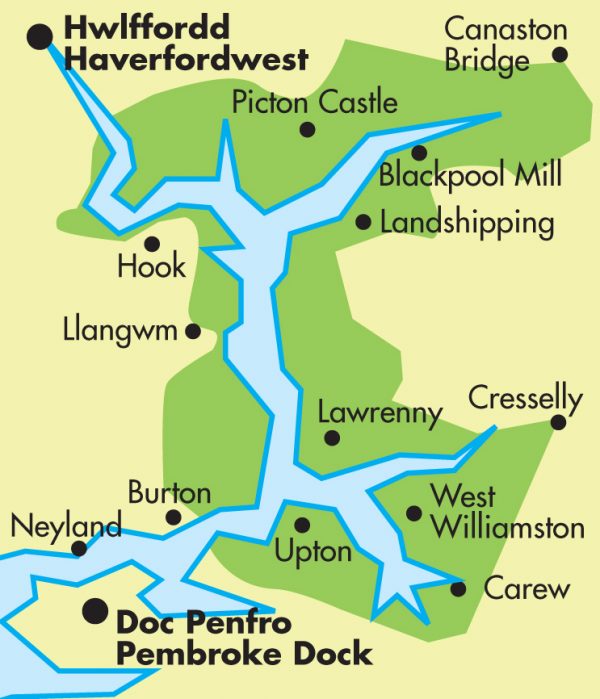 Click the links below to listen to the recordings connected to that subject
Ferry Crossings and Characters
Listen to first hand memories of ferry crossings, anecdotes about the local ferrymen and a story of a modern day commute across the river from Landshipping to Picton Point.​
Industry
The river was once the main highway in Pembrokeshire, and it is largely due to this that industry flourished.
Hear stories of coal mining and tragedy, enterprising fisherwomen, and boatbuilding.​
War
Hear about life in Lawrenny during the Second World War.
Tragedies
Where there is water, there will inevitably be tragedy.
Hear the sad stories of fisher people, and the mining disaster in Landshipping. The mining tragedy brought women miners and rural depopulation into the spotlight.
Childhood
Listen to young friends talk about the role the river plays in their lives – the fun, games, freedom and adventure it affords them.​
An Inspirational place
The Cleddau Rivers are often referred to as the 'secret waterway' – away from the rugged and sometimes busy coast, they are an oasis of peace and tranquillity, a chance to restore the soul.
The ever-changing light and the moving water provide inspiration for artists, not just for the wider landscape views, but for the small features such as the rocks, tree roots and patterns on the foreshore.
Language
Listen to some of the local dialect from the Carew and Cresselly areas, and hear some of the peculiar place names that you might find on a marine chart, but not on any other map.
Wildlife
The Cleddau Rivers are a haven for wildlife, especially during the winter months.
Wildfowl and waders migrate here for the milder climate, and you might be lucky enough to see huge black clouds of starling murmurations at dusk. If you're very very lucky, you may even catch sight of an otter! Or you can simply lose yourself in the sounds of the river.
Map of Daugleddau Estuary
More about the National Park's culture and heritage