What do us Brits like discussing more than anything else?! The weather of course! From tropical landscapes to glaciers and ice sheets, Britain has been through it all.
Around 125,000 years ago the climate was much warmer than it is today, but conditions then cooled considerably until the last great glaciations, c. 18,000 years ago. At this time, much of Britain was covered by ice sheets fed by glaciers flowing out of the mountainous areas.
In the Pembrokeshire Coast National Park, the Irish Sea Ice Sheet reached the Preseli Hills, and also flowed southwards over the St David's Peninsula, reaching the entrance to Milford Haven before the advance was halted by a dramatic improvement in climate.
When the ice melted it left behind 'boulder clay' deposits that had been gouged and ground from rocks all along its route southwards towards, and then across, Pembrokeshire. In many places meltwater reworked these deposits to form sheets of sand and gravel. So, much of the beautiful sand on our beaches was once carried many miles by a frozen Irish Sea.
Have a look at the links below to find out what was happening many, many years ago….
125,000 years ago
Remnants of beach platforms are found at two to six metres above high water mark all around the Pembrokeshire Coast National Park such as Caldey Island, Freshwater West, Marloes Sands, Ogof Golchfa (Porth Clais) and Poppit Sands.
The lowest layer of deposits overlying the rock platform at Broad Haven South (pictured above), which is two to four metres above the current high water mark (shown by the transition from light brown barnacles to black lichens) is composed of rounded pebbles and shells that have been naturally cemented together to form rock. Laboratory testing of amino acids from the shells date them as being c. 125,000 years old.
This shows that during the 'Ice Age', which refers to the period from two million years until only 10,000 years ago, there were some relatively short periods when the climate was actually warmer than it is at the present time.
As a consequence, considerably less ice must have been present on Greenland and the Antarctic Peninsula, causing sea levels to rise six metres higher than today.
This has important implications in planning for future climate change!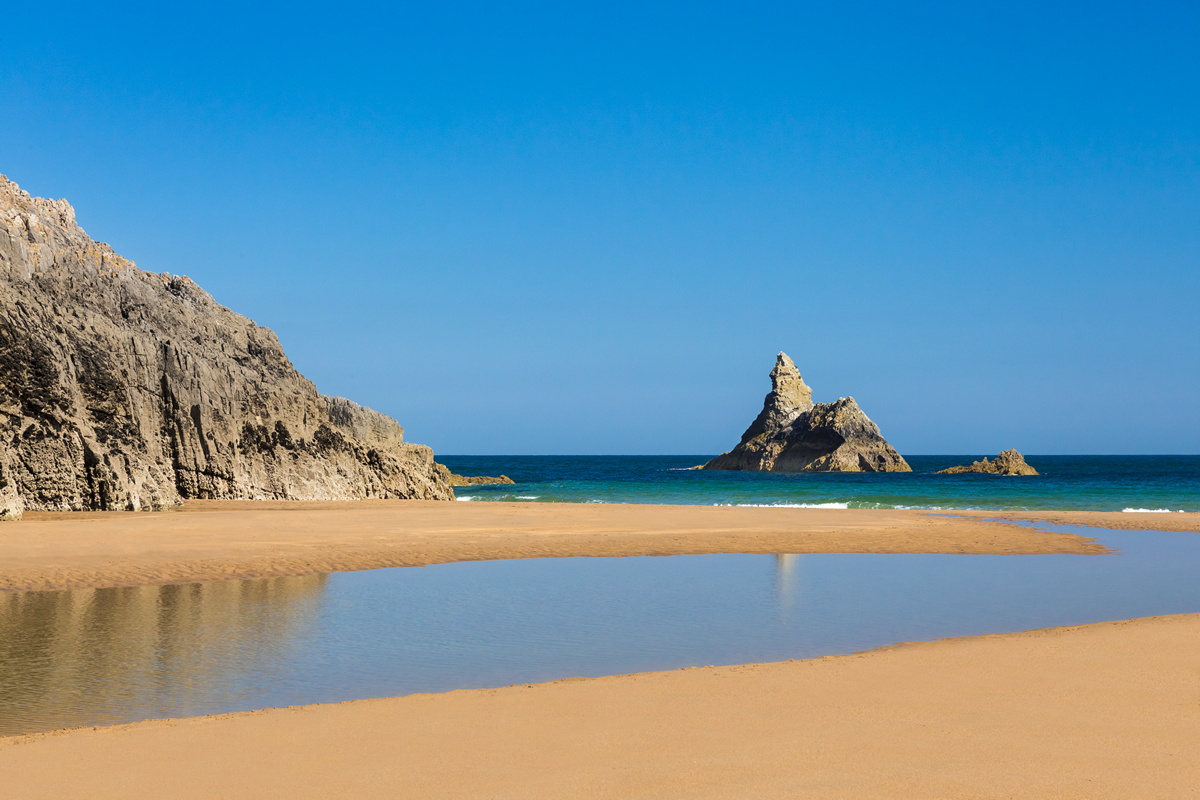 18,500 years ago
At Ogof Golchfa there is also evidence of a beach platform with rounded pebbles and boulders, as seen at Broad Haven South.
The next layer in the sequence at Ogof Golchfa shows evidence of a dramatic deterioration in climate (permafrost conditions), and above this 'boulder clay' and large erratic (ice transported) boulders show evidence that this area was eventually covered by the Irish Sea Ice Sheet.
It's important to remember that the sea level was locally 40m lower than it is now so the coastline was not where it is today.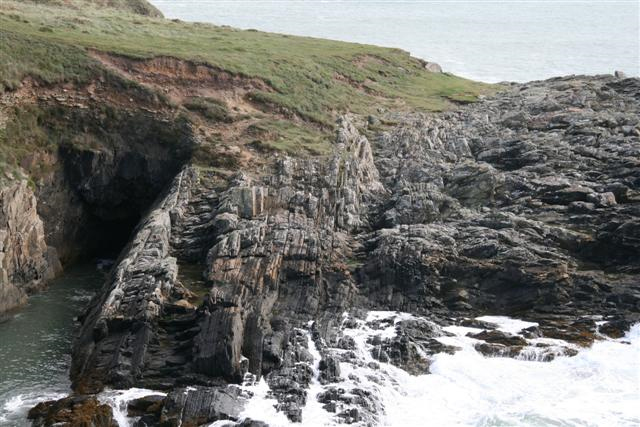 5,000 to 3,000 years ago
As ice cover diminished to its present extent, the sea level rose rapidly and then slowly stabilised reaching its present position about 5 thousand years ago. During this climatic improvement, woodland developed over Pembrokeshire, including those areas that have now succumbed to rising seas, giving rise to the Welsh legend of Cantre'r Gwaelod.
Cantre'r Gwaelod or the 'Sunken Hundred', is the legendary ancient sunken kingdom said to have occupied fertile land lying between Ramsey Island and Bardsey Island in what is now Cardigan Bay to the west of Wales.
As ice cover diminished, rising sea levels flooded low-lying coastal areas, which are now Cardigan Bay, St Brides Bay and Carmarthen Bay. Boulder clays and gravelly sands that had been deposited by melting ice sheets were reworked to form beaches and shingle ridges which rapidly shifted inland over wooded areas, leaving behind the evidence of 'submerged forests' that are present on most Pembrokeshire beaches but often hidden beneath the sand.