Enjoy a wild Whitsun at the Pembrokeshire Coast National Park
Posted On : 24/05/2023
Take part in some medieval mayhem, experience the thrill of a Roman Invasion, make your own nature crown and explore some terrific trails this half-term with the Pembrokeshire Coast National Park Authority.
As the county gears up for another busy summer season, the Park Authority promises a packed programme of events, with something to suit everyone.
At Carew Castle and Tidal Mill, the spectacular archers and knights of Bowlore will return between Sunday 28 May and Tuesday 30 May, featuring death-defying sword fighting, archery and armour displays, as well as a chance to take part in Sword School, Have-a-Go Archery and handle other authentic weaponry. Those interested in Medieval weapons on a larger scale should mark Thursday 1 June in their diaries, when Fire! Launch of the Giant Trebuchet will take place at 2.30pm.
New to Carew this year is an activity for children and families, based around the wonderful world of herbs. Taking place on Saturday 3 June at 11am, Hooray for Herbs involves a short sensory tour of the Castle's herb beds to gather the ingredients needed to make a variety of natural products.
The less glamorous side of Castle life will be revealed in the ever-popular Horrid Histories sessions, which return to Carew between Wednesday 31 May and Friday 2 June at 11am. Included free with the normal admission, these fun, interactive talks for the younger generation will reveal all the gory stories, terrible tales and revolting reports that are never taught in history lessons. Children must be accompanied.
For a small fee, younger visitors are also invited to take part in a Kings and Queens Treasure Trail around the grounds of Carew Castle, which will run throughout the school holidays and includes a royal prize.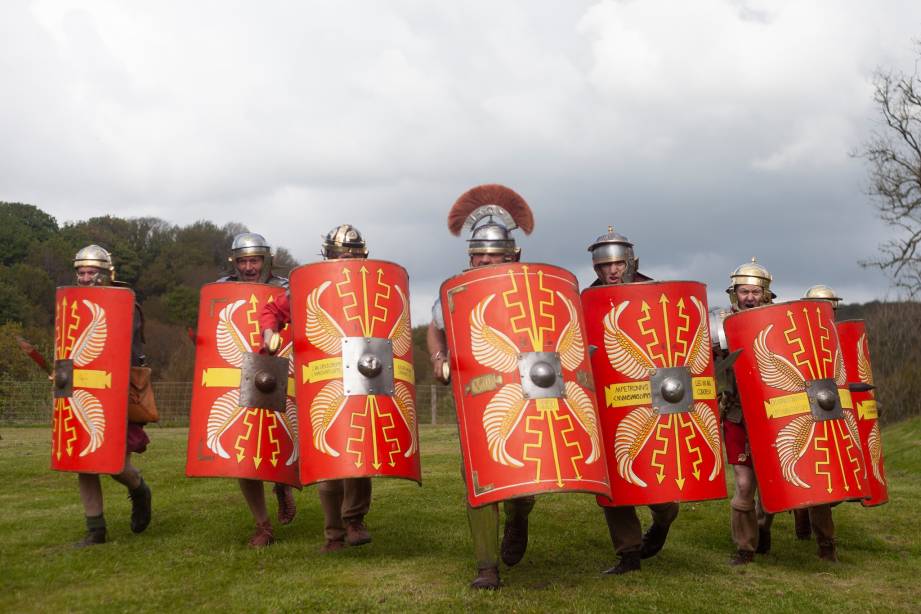 An ancient adventure awaits all half-term visitors to Castell Henllys Iron Age Village, where friendly members of the tribe will share their tales about life in the Iron Age, as well as demonstrate ancient crafts and skills. For an extra fee, a variety of hands-on Prehistoric activities, including breadmaking, will take place between Monday and Thursday of half-term.
Fresh from their conquest of Anglesey, Roman soldiers of the Legio VIII Augusta MGV will descend upon Castell Henllys on Saturday 3 and Sunday 4 June to complete their conquest of Wales. Spectacular arena displays are scheduled for 12.30pm and 2.30pm, with crafts and activities included with admission. Tickets are priced at £12 per adult, £11 for concessions, £10 for children and £35 for a family (2+2) ticket.
Although all sessions can be provided bilingually, the Taith Tywys at Castell Henllys on Saturday 3 June is aimed at visitors who would like their experience entirely through the medium of Welsh. It is also suitable for those who are learning Welsh. Normal admission applies.
A chance to experience the more peaceful aspects of Iron Age life, with no loud or noisy activities or demonstrations, will take place on Sundays between 10am and 12 noon.
This half-term marks the last opportunity to see Amgueddfa Cymru – Museum Wales' On Your Doorstep exhibition at Oriel y Parc Gallery and Visitor Centre in St Davids, focussing on local archaeological and natural discoveries of all shapes and sizes, from ghost slugs to gold coins.
Other exhibitions running at Oriel y Parc during half-term week include Nature Inspired by Tŷ Hir Crafts, featuring vibrantly coloured silk scarfs, hand felted bags and decorative woodturned pieces, and Sunset and Sand by Kate Kelly, a collection of oils, pastels and acrylics, inspired by the stormy seas, dramatic light and shadow of the Pembrokeshire Coast. Those who visit on Saturday 27 May will have an opportunity to meet Kate Kelly for a walk around her exhibition at 11am.
Work from Edward Bowie will be on display in the Tower during this period, transferring the movement, mood, colour and atmosphere of the natural environment into visual form.
All exhibitions are free to enter, and there will be plenty of crafty activities to keep younger visitors occupied, too. These include a Kings and Queens Treasure Trail for a small fee, and chance to make a royal crown from natural materials at Wednesday Club! Art Workshop between 11am and 3pm on Wednesday 31 May. The workshop will operate on a drop-in basis, at a cost of £3 per child.
In the Year of Trails, the Park Authority's Activities and Events programme offers plenty of opportunities to get out and about this half-term and learn more about Pembrokeshire's spectacular landscape.
A circular walk at the recently-opened Llwybr Pwll Cornel, along the Afon Nyfer, will take place on Tuesday 30 May, focusing on how nature conservation, access issues and climate change impact on this part of our National Park.
Those who are learning Welsh, or are already fluent, may be interested in joining a Welsh language walk in the heart of the Preseli Hills on Thursday 1 June. As well as taking in the splendid views from Carn Meini, the route of the Craig Talfynydd Walk will also include the enigmatic henge and stone circle of Bedd Arthur and the Liberator crash site situated near Carn Bica.
An easy-paced walk around St Davids will take place on Friday 2 June, looking at the variety of buildings, quaint and modern, that make up Britain's smallest city. As darkness falls, there will also be an opportunity to join a Brilliant Bats at Carew walk, to discover more about these elusive nocturnal creatures and tune in to their chatter on our echolocation detectors.
Booking is essential for all walks. For timings, ticket prices, bookings and the full programme of summer events, visit our events website.