More electric vehicle charging points in Pembrokeshire
Posted On : 24/11/2020
Further publicly available electric vehicle charge-points have been provided via a partnership between Pembrokeshire County Council and Pembrokeshire Coast National Park Authority.
'Fast' electric vehicle (EV) charging is now operating in fourteen different locations around the county.
This will expand to eighteen locations once four further sites are completed for Pembrokeshire Coast National Park Authority later this year.
Two locations (Tenby Multi Storey Car Park and Haverfordwest County Hall Car Park) offer both 'Fast' and 'Rapid' charging.
The car park charging locations available now are:
Multi-storey, Upper Park Road, Tenby, SA70 7LT
Town Moor, Narberth, SA67 7AB
Gordon Street, Pembroke Dock, SA72 6DW
Long Street, Newport, SA42 0TJ
West Street, Fishguard, SA65 9NJ
Charles Street, Milford Haven, SA73 2AJ
High Street, St Dogmaels, SA43 3EA
Multi-storey, Cartlett Road, Haverfordwest, SA61 2LX
County Hall car park, Haverfordwest, SA61 1TP
Quickwell car park, St Davids, SA62 6NT
Mart Ground car park, Crymych, SA41 3QE
High Street car park, Neyland, SA73 1TF
The Parade car park, Pembroke, SA71 4JY
The Parrog car park, Goodwick, SA64 0DE
The Pembrokeshire Coast National Park EV charging locations that will be available by end of 2020 are:
Brewery Meadow (Regency Hall) car park, Saundersfoot, SA69 9ND
The Hoppers car park, Porthgain, SA62 5BN
Millmoor Way car park, Broad Haven, SA62 3JH
Oriel y Parc Visitor Centre car park, St. Davids, SA62 6NW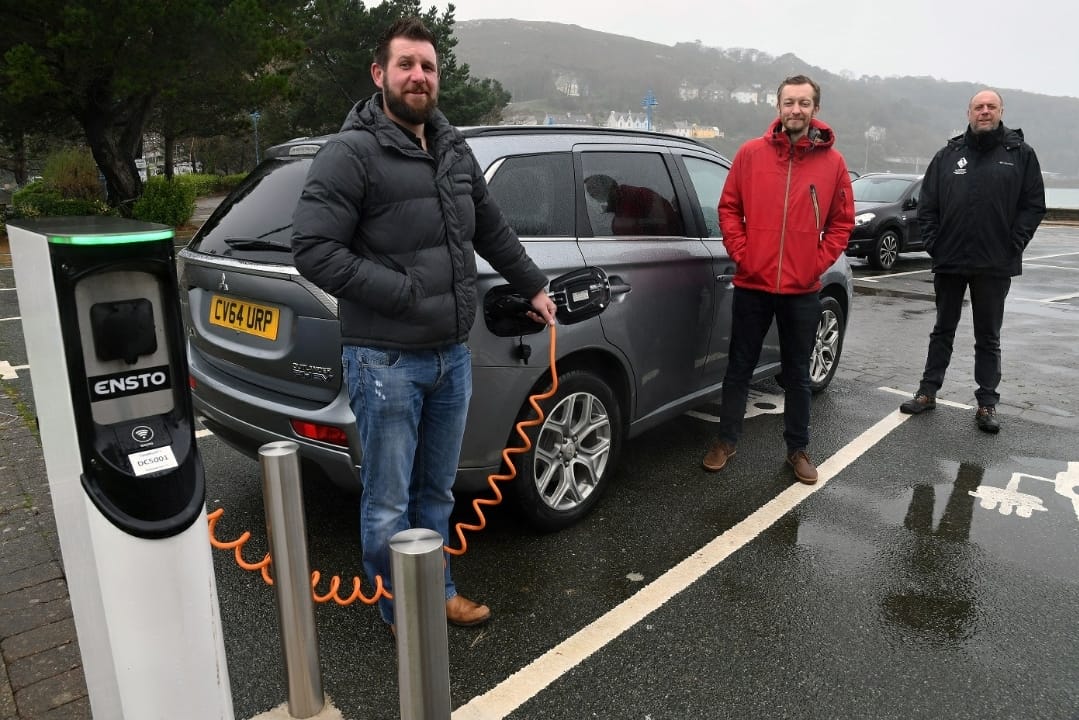 The project was designed and commissioned by the Council's Infrastructure team, is funded by Welsh Government and delivered by Narberth-based Silverstone Green Energy.
The charge-posts are part of the www.dragoncharging.co.uk network which is a regional network being used by neighbouring local authorities in Carmarthenshire and Ceredigion and also further afield in Powys, Blaenau Gwent, Newport (Gwent), Torfaen, Monmouthshire and Caerphilly.
In advance of first use it is advised that potential users read the information on how to use the charging stations which can be found on the Dragon Charging Website at www.dragoncharging.co.uk/FAQ.
Charging is currently priced at 85 pence each time a user connects with 25 p/kWh charged for electricity consumed. All revenue is used to support and maintain the network.
Pembrokeshire County Councillor Phil Baker, Cabinet Member for Infrastructure, praised the progress made by the partnership, particularly in view of recent news that new petrol and diesel cars will not be sold in the UK after 2030.
"As well as helping residents and visitors switch to a low carbon future, the project aims to satisfy the needs of motorists by providing charging hubs for those who do not have off-street parking," he said.

"The project also promotes the concept of 'eco-tourism'. All the charge-points are in centrally located car parks so that users can visit local businesses and attractions whilst charging their cars."
Councillor Paul Harries, Chairman of Pembrokeshire Coast National Park Authority, added:
"Promoting sustainable transport is just one of a range of measures the Park Authority is taking to respond to the climate change emergency.

"As well as enabling visitors and residents to charge their vehicles, these charging points will also support the Authority's efforts to green its fleet to include as many electric vehicles as possible."
Pictured with the Council's Sustainable Development and Energy Manager, Steve Keating (centre) at the electric vehicle charge-point at the Parrog in Goodwick are: Andrew Mackay (left), Construction Project Manager at Silverstone and Andrew Muskett, Building Projects Manager at the Pembrokeshire Coast National Park Authority.
Related links
Document download
National Park Authority Responding to Climate Change Emergency Action Plan
Download Action Plan