DISTANCE/DURATION: 7.0 miles (11.3 km) 3 hours 30 minutes Shorter circuit of Dinas Head 3.0 miles (5.0 km) 1 hour 30 minutes.
PUBLIC TRANSPORT: Service bus Dinas 412, *Poppit Rocket 405 (*seasonal, hail & ride).
CHARACTER: Rugged coast, cliff edge, lanes and 1km minor road walking.
LOOK OUT FOR: Views and high cliffs on Dinas Head.
A fascinating walk along an island – that isn't an island…
Dinas Island isn't an island at all but a promontory partially detached from the mainland. It was formed by the same Ice Age melt-water that formed the Gwaun Valley further down the coast.
Dinas is famous on the West Wales coast for its birds, with ravens, chough and herring, greater and lesser black backed gulls to be seen in the winter. In summer razorbills, guillemots, fulmars and shag breed on the cliffs (a good spot to watch overlooks Needle Rock).
Away from the cliffs there are stonechats and warblers. There are terrific views out to Newport Sands to the north and inland to the Preseli Hills.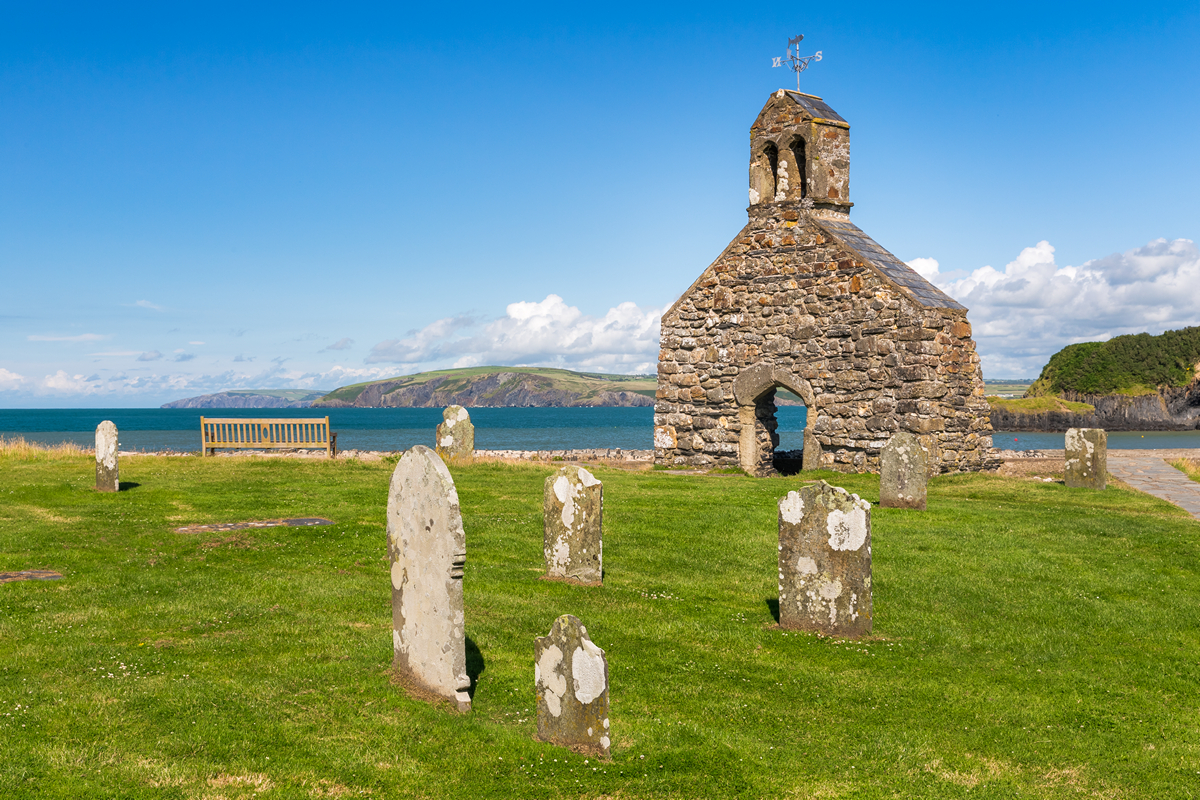 There's typical plant cover on the windswept cliff with gorse, bracken and bramble, scrubby trees of hawthorn, blackthorn and hazel, and small oak and ash where there is shelter from the wind.
You'll find many coastal wildflowers such as ling, scabious, thyme, heather, thrift, pennywort, foxglove, and orchids. Bluebells bloom in spring on the eastern slopes.
Witness the power of the Pembrokeshire weather at Cwm-yr-Eglwys the church there was destroyed in the great storm of 1859.
Geraint Harries, North Sector Senior Ranger for Pembrokeshire Coast National Park Authority, says: "In early summer Needle Rock is a good place for nesting seabirds. Among them you'll see razorbills, the bird that is the symbol of the National Park."
Character: Rugged coast , cliff edge, lanes, 1 km minor road walking.
Find this Walk
Grid ref: SN005405
SAFETY FIRST!
Take great care when on the Coast Path
Stay on the path and away from cliff edges
Wear boots and warm, waterproof clothing
Take extra care in windy and/or wet conditions
Always supervise children and dogs
Leave gates and property as you find them
Discover more about Walking in the Park