Chapter Contents:
A Portrait of Fishguard and Goodwick's Green Infrastructure
Fishguard and Goodwick
Figure 2.1: Fishguard and Goodwick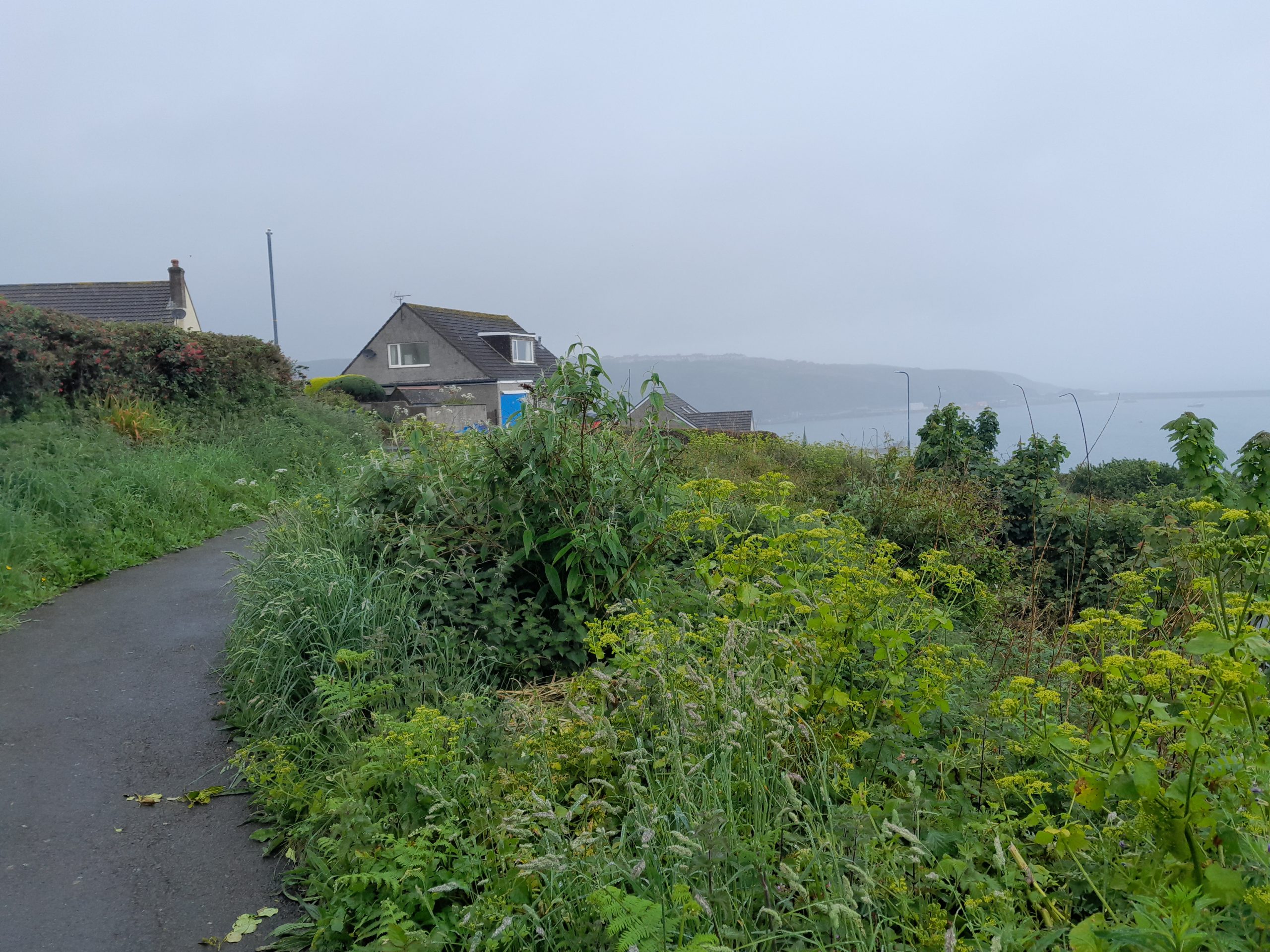 A Portrait of Fishguard and Goodwick's Green Infrastructure
2.1 Fishguard and Goodwick are twin towns situated on the north Pembrokeshire Coast and are separated by a broad low-lying valley which hosts Goodwick Moor. The towns are situated along the clifftops and within the lower harbour which wraps around Fishguard Bay. The settlements retain much of their maritime characteristics derived from their historic coastal setting. Bordered by the Pembrokeshire Coast National Park to the east and west, the settlements have strong recreation and transport links to the wider region, including the Pembrokeshire Coast Path, Fishguard and Goodwick railway station, and Fishguard ferry port.
2.2 Areas of open space within the settlements are concentrated in proximity to the coast and low-lying moorland, with stream corridors meandering toward the harbour from further inland. The stream corridors are heavily wooded and comprise numerous areas of ancient or semi-natural woodland. Across the low-lying moor area between the two towns lie public parks and a nature reserve, as well as some large wooded areas. Notable public spaces include Goodwick Moor Nature Reserve, Lota Park and Phoenix Park. Considered together, these spaces offer opportunities for strengthening recreation and wildlife linkages between the towns and the coastline.
2.3 The coastal clifftops of both Fishguard and Goodwick host important recreational and ecological assets. Cliffs on either side of Lower Fishguard Harbor are designated as Sites of Special Scientific Interest (SSSI) for their significant geologic value. The coastal corridor also hosts a section of the 186-mile Pembrokeshire Coast Path, a promoted National Trail. This footpath passes through and along the northern edge of the towns and provides a strategic link across the settlement cores and intervening open spaces. A network of Public Rights of Way (PRoW) and cycling routes branch off the Pembrokeshire Coast Path and follow the wooded stream corridors inland to provide further recreational opportunities.
Figure 2.2: GI Opportunities within Fishguard and Goodwick
Kickstarter Projects
FIS8 – Enhance the biodiversity value of existing greenspaces and playing fields
2.4 A number of green spaces are dominated by large swathes of short mown amenity grassland which should be enhanced to promote increased biodiversity and recreational value. Examples include Maesgrug, Stop and Call playing fields, Heol Dewi, Fishguard Leisure Centre, amenity space at Pen-y-Bryn, St Mary's Field, Morfa Las and around Dan-y-Bryn.
2.5 One of the most straightforward methods of increasing biodiversity is to cut grass less often, mowing on rotation and collecting cuttings. However, wildflower seeding or plug plants should be added to enhance biodiversity value more quickly. Consideration should be given to sowing seed mixes with yellow rattle due to its ability to weaken vigorous grasses.
2.6 If greenspaces are used for recreation, enhancing the borders in sunny spots or creating pollinator friendly flowerbeds and borders along the margins offers the potential to allow greenspaces to serve both functions. Other options include the planting of native hedgerows, which provide food and shelter. The provision of areas for nature exploration, such as mown paths through species rich meadows, would help create space for people and nature.
Figure 2.3: FIS8 project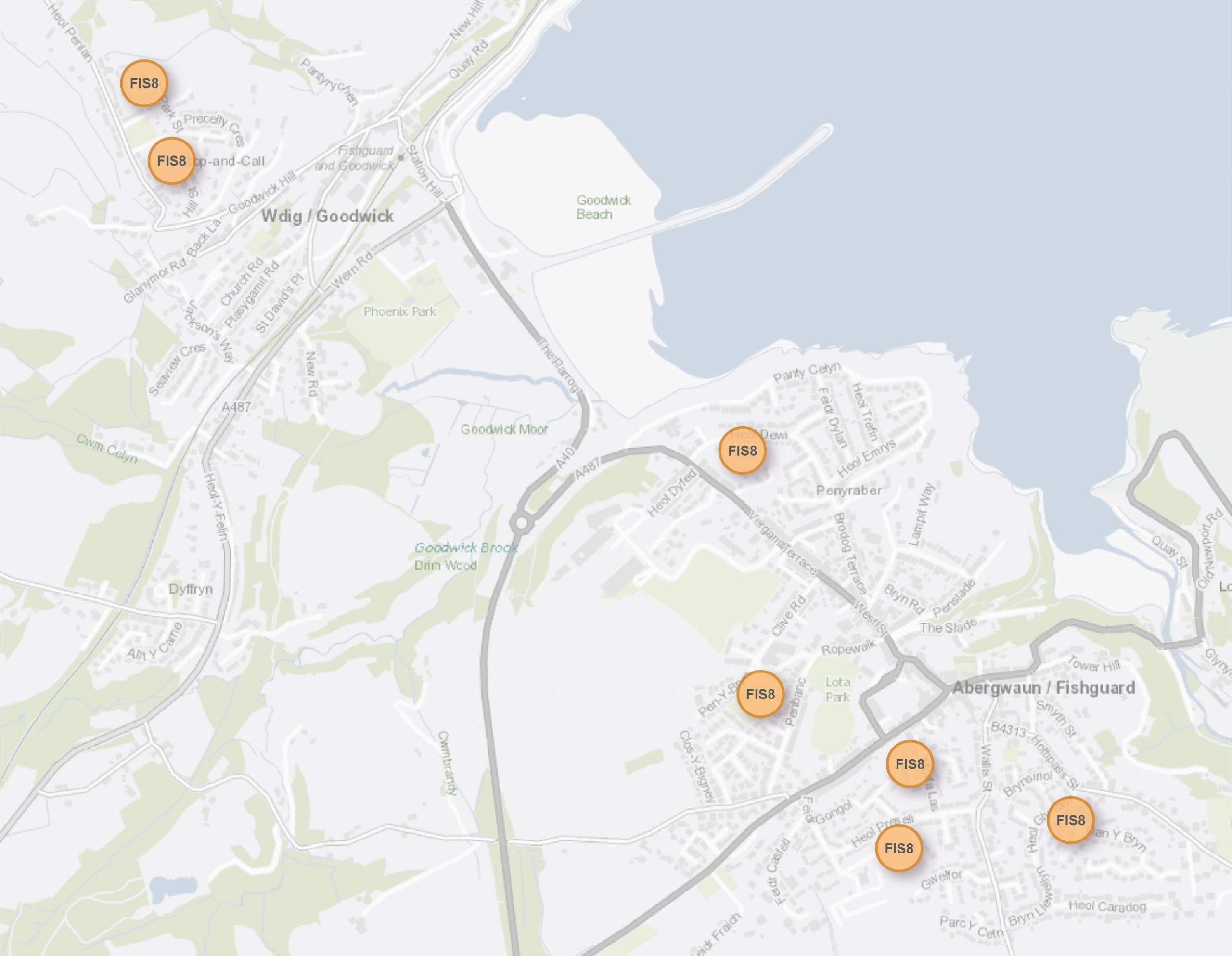 Benefits of the projects
2.7 Benefits of the project, as depicted in Figure 2.4 below, include:
Investment & enhanced visitor experience
Space for wildlife and ecological resilience
Play, education & interaction with nature
Social interactions & community cohesion
Reinforces a sense of place
Improves health and wellbeing
Figure 2.4: Benefits

Delivery mechanisms
2.8 Wildflower meadow habitat significantly reduces the amount of time spent on grass-cutting during the growing season. Annual cuts of the meadow should be integrated into the work programme of the Pembrokeshire County Council (PCC) StreetCare / Amenity Maintenance Team.
2.9 Provision of pollinator habitat should be delivered in accordance with the delivery section of the Pollinator Strategy.
2.10 The delivery of successful tree planting schemes can be challenging and costly due to the time required for trees to reach maturity. The design of tree pits, the depth and soil used and the on-going watering and maintenance is vital in ensuring successful establishment.
Potential partners
PCC StreetCare / Amenity Maintenance Team
Tree Wardens Pembrokeshire
Fishguard and Goodwick Town Council
Fishguard Greening Group
Pembrokeshire Nature Partnership
Outline cost
Low cost = <£250k
2.11 The cost of creating a wildflower meadow depends on the size and scale of the site. For small areas, it's relatively cheap to establish a small wild flower meadow. The cost of seed (lowland meadow perennial mixes) to cover 50 sq m ranges from £20-£30.
Potential funding opportunities
Local Places for Nature Fund
National Lottery Community Fund
Timescale
Quick win = <1 year
2.12 Wildflower meadows could be delivered at a few key locations in the next planting season.
Medium-term = 1-5 years
2.13 The creation of native hedgerows or tree planting would take longer to grow and establish. Site implementation may need to be staggered to allow the necessary adjustments in management routines by PCC StreetCare / Amenity Maintenance Team.
Potential constraints
2.14 There may be local objection to the project if enhancements detract from the tidy and orderly appearance of the street. Signage and interpretation boards should help to mitigate this, but plans would need to be clearly communicated to local residents prior to installation.
2.15 Tree planting comes with challenges due to the challenges in ensuring successful establishment. Where tree pits cannot be dug into the ground due to existing services, consideration should be given to the use of suitably sized above ground planters.
Maintenance and stewardship
2.16 Community stewardship is particularly important throughout the initial establishment years (60 months) to ensure trees are sufficiently watered during dry periods and stakes loosened when required. Securing 'buy-in' with local community groups, for example the Fishguard Greening Group, should also increase the chances for successful establishment.
2.17 A wildflower meadow requires a cut and lift at the end of the season. This is typically in September. The arisings should ideally be left for seven days to shed seed before removing. A second cut and lift may be required in early spring to remove winter growth.
Monitoring for success
2.18 The survival rate of new planting and areas of meadow habitats established can be monitoring indicators for success. Once all biodiversity enhancements have been implemented, an annual community BioBlitz could be organised to record the variety of life in the greenspaces. Engaging with citizen science projects such as the UK Pollinator Monitoring Scheme or organising an annual community BioBlitz at certain greenspaces can help involve local communities in monitoring efforts.
Next steps
2.19 Review the delivery sections of the Pollinator Strategy and Urban Tree Planting Strategy to review options for enhancing the biodiversity value of greenspaces.
2.20 Consult with PCC StreetCare / Amenity Management Team to reach agreement on which sites would be managed differently and how.
Figure 2.5: Fishguard and Goodwick
FIS 10 – Promote community food growing in Goodwick
2.21 Adopt a community led approach to promote sustainable food growth within Goodwick. The facility should complement existing allotment provision within Fishguard, offering the opportunity for benefits to the physical and mental well-being of local people as well as improved social and community cohesion. The COVID-19 pandemic resulted in a surge in the uptake of at-home food growth, with the demand for allotments matching this trend. Furthermore, a number of Pembrokeshire's allotment sites are at full capacity and experience considerable waiting lists. Therefore, new and inventive methods of delivering sustainable food growth practices should be considered – including community gardens, allotments or public planters. This could include community-led schemes, small-scale projects and new partnerships within the town itself.
2.22 The opportunity exists to work with the local community to identify a site for a community garden within Goodwick to meet the rising demand for outdoor growing by the community. Existing feasibility and site finding work undertaken by GRWP Resilience should be supported. The facility should also be delivered with input from the Greening Fishguard & Goodwick Group and the Tree Wardens Pembrokeshire volunteer scheme. The establishment of a community growing facility offers the potential to work in partnership with local schools to integrate sustainable food growth as part of the curriculum. Working in accordance with the objectives of the pollinator strategy for the town, the role spaces such as allotments can play in providing wildlife refuge through habitat creation and ecological management practices should also be explored.
Benefits of the project
2.32 Benefits of the project, as depicted in Figure 2.6 below, include:
Investment and enhanced visitor experience
Space for wildlife and ecological resilience
Play, education and interaction with nature
Social interaction and community cohesion
Reinforces a sense of place
Improves health and wellbeing
Figure 2.6: Benefits

Delivery mechanisms
2.24 Allocation of under-used land within Goodwick for a community growing space, as part of housing delivery or identify areas of publicly owned green space to allocate for a community growing initiative.
Potential partners
Allotment tenant groups
GRWP Resilience
Greening Fishguard & Goodwick Group
Tree Wardens Pembrokeshire
Pembrokeshire County Council (PCC)
PCC Street Care / Amenity Maintenance Teams
Incredible Edible Network
The Federation of City Farms and Community Gardens – Community Land Advisory Service in Wales and the Growing Together project
Wild About Pembrokeshire
Local schools
Developers
Outline cost
Low cost = <£250k
2.25 Delivery of the growing space could be relatively low cost once the land has been identified.
Potential funding opportunities
Section 106
Community Infrastructure Levy (CIL)
Local Places for Nature Fund
Timescale
Medium-term = 1-5 years
2.26 Engagement with the community could begin quickly, however, the identification of suitable land and the delivery of the growing space will take a couple of years.
Potential constraints
2.27 Securing appropriate investment, site optioneering site finding and land ownership uncertainties would form significant challenges in the establishment of the community food growing facility.
2.28 Due to the stewardship challenges associated with the management of community resources in the long term, it is essential that management and maintenance is built into funding beyond the initial establishment phase. Appropriate ground preparation and soil testing are also key challenges to delivery.
2.29 The availability of resources within PCC and other stakeholders to promote and support community engagement and awareness at a local level is limited. As a consequence, successful community consultation would be essential to secure local 'buy-in' and would form a key component in the delivery of this project.
Maintenance and stewardship
2.30 The project would place a reliance on community groups at the local level for future management and maintenance of the community food growing facility. The opportunity also exists to manage the site to enhance biodiversity, delivering considerable benefits and improvements to local wildlife.
2.31 Additional support from the PCC StreetCare / Amenity Maintenance Teams should be provided to ensure the ongoing success of the space, both horticulturally and for wildlife.
Monitoring for success
2.32 The opportunity exists for PCC to integrate the site into future updates to the Well-being Plan, produced in response to the Well-being of Future Generations Act and monitor its future usage.
Next steps
2.33 A feasibility study should be undertaken to identify an appropriate site and initiate consultation. Soil testing should also be undertaken to inform the site selection process.
Figure 2.7: Fishguard and Goodwick
FIS 13 – Retrofit rain gardens, street trees and permeable paving within existing urban areas
2.34 Fishguard has suffered from twin issues in the past, in the form of surface water flooding events and also incidents where foul sewage has overflowed and resulted in flooding (known as Combined Storm Overflows (CSOs)). These overflows originate from increased pressure on sewer systems due to the input of storm water to old sewage systems that take both rainwater and foul effluent. Large areas of impermeable land use, drained directly via pipes into the sewers and then rivers, exacerbate both of these issues. Implementation of Sustainable Drainage Systems (SuDS) interventions which divert storm water from combined sewers could reduce pressure on infrastructure, helping to reduce fluvial influence in times of flooding. Areas for potential intervention include:
West Street Car Park
Co-op food store
Parc-y-Shwt Car Park
High Street, West Street
Main Street and Hamilton Street
The Parrog and Manor Way in Goodwick
2.35 Fishguard's total town canopy cover is currently only 15.9%. Retrofitting SuDS interventions, such as street tree and rain gardens, would therefore offer benefits such as reduced surface run-off, enhancements to the aesthetic appearance of the area and improved air quality.
Figure 2.8: FIS13 project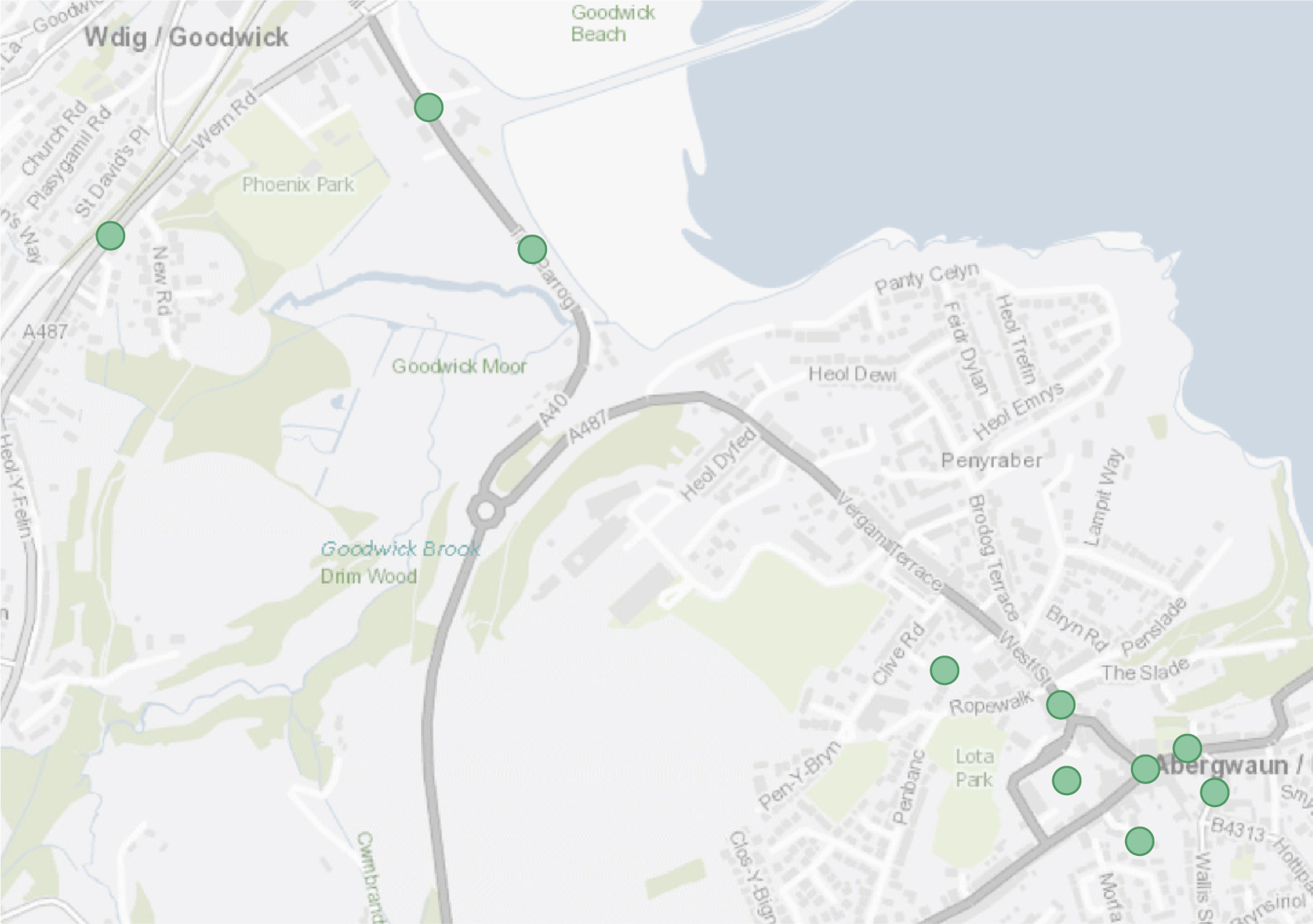 Benefits of the project
2.36 Benefits of the project, as depicted in Figure 2.9 below, include:
Reduces the risk of flooding
Enhances water quality
Spaces for wildlife & ecological resilience
Enhances air quality & noise regulation
Reinforces a sense of place
Urban cooling
Improves health & wellbeing
Carbon sequestration & climate change.
Figure 2.9: Benefits

Delivery of nature-based solutions and ecosystem services
2.37 The industrial and commercial expansion of Fishguard over recent decades has led to increased areas of hard landscape. The implementation of rain gardens, tree planting and permeable paving within these areas would improve the character of the townscape and introduce a sustainable approach to dealing with rainwater run-off.
2.38 SuDS interventions mimic drainage in nature where precipitation is absorbed into the ground, slowed by vegetation. The quantity and quality of water that ends of up in local watercourses is therefore improved, helping to alleviate flooding and reduce CSOs. Sustainable management of water in urban areas also ensures towns are more resilient to the pressures of climate change and population growth.
Delivery mechanisms
2.39 An annual planting programme should be established to successfully plan, deliver and manage the new tree planting, rain gardens and permeable paving areas. Sufficient planning is required prior to the bare-root planting season (October-March at the latest) to ensure ground checks / soil testing is completed.
2.40 Trees should be delivered in accordance with the delivery section of the Urban Tree Planting Strategy.
Potential partners
Local community
Pembrokeshire County Council (PCC) Highways and Transport Department
PCC StreetCare / Amenity Maintenance Team
Local businesses
Tree Wardens Pembrokeshire
Dwr Cymru Welsh Water
South Wales Trunk Road Agent (SWTRA)
Fishguard and Goodwick Bay Conservation Group
Outline cost
Low cost = <£250k
2.41 Price is scalable depending on the number of trees planted / rain gardens created / permeable paving areas installed. However, a rough estimate of ~£10,000 to appropriately establish a tree within hard landscaping should be applied.
2.42 Costs would comprise some limited specialist advice including utility searches, stakeholder consultation and planting / maintenance costs. The costs of installing permeable paving would be considerably higher. As a consequence, an initial focus should be placed on the implementation of rain gardens and tree planting.
Potential funding opportunities
Transition Bro Gwaun grant funding (based in Fishguard)
The Friends' Project Fund – Friends of Pembrokeshire Coast National Park
Pembrokeshire County Council (PCC)
Dwr Cymru Welsh Water
Developer contributions
National Lottery Community Fund
Resilient Communities Grant Programme
Local Places for Nature Fund
The Tree Council
Nature Networks Fund
Transforming Town Fund
Natural Resources Wales (NRW) grants
Timescale
Quick win = <1 year
2.43 Tree planting and rain garden creation should be delivered at a few key locations in the next planting season.
Medium-term = 1-5 years
2.44 The majority of tree planting, rain garden creation and permeable paving aspects should be delivered across the next five planting seasons to allow for sufficient planning and engagement.
2.45 For initial planting and paving construction, this would be a quick win and could be implemented in less than a year. Subsequent carbon sequestration of the trees and associated vegetation would be limited initially but would increase within the next decade as the trees reach maturity.
Potential constraints
2.46 There are a considerable number of potential stakeholders to engage with for this project, with various landholders and the engagement process critical to the success of the scheme. PCC Highways and Transport Department and the SWTRA must be involved in the project.
2.47 The majority of the surfacing within the potential project area is characterised by hard landscape. The cost of excavating tree pits within hard landscapes is more expensive than within soft landscapes. Therefore, new tree planting must achieve the right balance between cost, space and desired function / design. In some circumstances, fewer trees with a larger rooting volume may be appropriate.
2.48 Within the urban environment, the potential for a variety of services and utilities to be located within potential planting areas and avoidance of these must be considered when accounting for the installation of tree planting. Rain gardens typically require shallower depths of installations and would therefore have a lower probability of conflict with services. There may be the potential for substituting tree planting in favour of rain gardens in areas identified to have a high probability of services.
2.49 New tree planting must also maintain key vistas. Therefore, all planting proposals should be prepared in conjunction with PCC.
Maintenance and stewardship
2.50 Establish a resident or commercial partner working group alongside PCC Street Care and Highways Department to take ownership of the new tree planting. A training day could provide the community with the tools and knowledge to successfully maintain new trees until establishment, including watering and checking tree stakes.
2.51 Watering and establishment care would be needed for the 60 month establishment phase to ensure trees are able to become independent in the landscape.
2.52 Permeable paving areas would need to be either adopted by PCC or by the relevant landowner.
Monitoring for success
2.53 Subject to the availability of funding, monitoring of the success of the project should be in conjunction with data from Dwr Cymru Welsh Water in terms of sewer capacity and reduction in CSO events.
2.54 Utilise the resident working group to monitor the successful establishment of new street trees and gardens. Establish a communication channel for reporting any issues or failures.
Next steps
2.55 Immediately identify landholders and commercial partners and engage with potential stakeholders, including SWTRA and the appropriate departments of PCC.
2.56 Survey the area to ascertain areas best suited for intervention.
2.57 Review the delivery section of the Urban Tree Planting Strategy to determine the process for planting trees within soft landscapes and understand the key components for successful tree establishment.
2.58 Engage residents and community groups to identify locations for tree planting and selecting species, using the species selection guide within the Urban Tree Planting Strategy.
Figure 2.10: Fishguard and Goodwick
Project Long List
FIS1 – Enhance Lota Park
2.59 Introduce additional tree planting within Lota Park to enhance landscape character. Potential interventions include avenues along primary routes, large boundary trees, specimen parkland trees, orchard trees, flowering trees at key gateways, as well as the integration of small copses. The planting of fruit bearing trees along secondary routes, supplemented with plug planting around tree bases would provide an edible corridor. Focus tree planting in areas which suffer from waterlogging. Use of the embankment which separates the north and south of the park as a meadow should also be considered. The opportunity also exists to complement wider proposals for shared-use path linkages along High Street and Ropewalk, including wider connections to West Street, These routes are due to be implemented via Active Travel Funding.
FIS2 – Review the management of woodland sites at Marine Walk, The Slade and the River Gwaun
2.60 Create management plans for the woodlands at Marine Walk, The Slade and the River Gwaun to promote their long-term management. Interventions such as coppicing to enhance understorey structure and woodland thinning to maintain views / sightlines should be considered. Selective thinning should also be used as a mechanism to enhance the development of a diverse ground flora. Where feasible, tree groups should be planted at existing seating areas and to delineate entrances to Marine Walk. Consideration should be given to the implementation of proposals in conjunction with improvements outlined on the Active Travel Network Map, which aim to enhance Marine Walk and The Slade. A shared-use path is also proposed bordering the River Gwaun to provide linkages between Lower Fishguard and Llanychaer.
FIS3 – Diversify road verges along The Parrog
2.61 The verges at Goodwick Moor and The Parrog Road are currently characterised by short sward amenity grass. Working in conjunction with the Highway Authority, salt-tolerant wildflower meadows should be created to provide a pollinator corridor and improve the gateway into Goodwick. Similar wildflower meadows should also be established on the north eastern edge of The Parrog, with mown paths and glades to cater for the recreational use of the promenade. This intervention should be coupled with the planting of small tree groups and the renovation of existing shrub planting. Views to Goodwick Bay and Goodwick Moor should be promoted and maintained.
FIS4 – Create a pollinator trail at Marine Walk
2.62 Enhance wayfinding at Marine Walk, including signage along The Slade to provide direct connections from Fishguard town centre to Lower Fishguard Harbour. In areas of open amenity grassland and rest stops, planters should be installed as well as butterfly banks or bare earth areas. The route could be locally promoted as a 3km circular pollinator trail. Future aspirations should include the extension of the trail and the potential to achieve Bee Friendly Status similar to St Davids.
FIS5 – Enhance the greening of Chimneys Link Road (Ffordd yr Efail)
2.63 Several areas of greenspace exist at the new one way system (including pedestrian footways and shared-use path) adjacent to the Co-op. Interventions which diversify planting and enhance areas of short mown grassland should be explored alongside the upgrading of desire lines into formalised routes. Potential opportunities also include the management of areas which are awaiting development as 'meanwhile spaces', enhancing their pollinator value through wildflower planting. Consideration should be given to the introduction of raised planters at the bus station and the use of green roofs on bus shelters / toilet blocks.
FIS6 – Promote greening of the A487 corridor
2.64 Introduce additional tree planting within existing grass verges along the A487 on the south west approach to Fishguard as well as on land to the south of Dyffryn. The aim should be to provide improved connectivity with the wider countryside and the creation of a gateway into the settlements. Plug planting around the base of trees should be considered as a mechanism to provide additional pollinator and visual interest.
FIS7 – Enhance the greening of Phoenix Park and Wern Road
2.65 Introduce boundary planting adjacent to the playing field and along roads / verges to provide a physical buffer between the open space and industrial context. This vegetation would also play an important role in ameliorating the negative perception of noise pollution from passing vehicles. The car park area to the east should be softened with tree planting and linear swales, with key access points delineated with additional tree planting.
FIS8 – Enhance the biodiversity value of existing greenspaces and playing fields
2.66 Refer to Kickstarter Projects.
FIS9 – Strengthen the network of woodlands located on the urban edge
2.67 Proposals which reinforce the existing pattern and network of woodland across areas immediately adjacent to urban areas should be explored, including the establishment of planting along watercourses and drainage networks.
FIS10 – Promote community food growing in Goodwick
2.68 Refer to Kickstarter Projects.
FIS11 – Improve the biodiversity value of the playing field south of Goodwick Moors
2.69 The potential exists to enhance the grassland margins of this field, currently utilised as a playing field. Proposals to improve the site for pollinators should include the implementation of a relaxed mowing regime and the sowing of wildflower seeds. Surrounding landowners should be consulted with the aim of creating a connected network of grassland margins to promote wider strategic linkages towards Goodwick Moor.
FIS12 – Enhance Goodwick Moor
2.70 Building on recent enhancements to public access at Goodwick Moor, proposals should aim to improve the range of pollinators. This would be achieved through the delivery of deadwood piles, controlling invasive species and enhancing the ecological value of habitat edges.
FIS13 – Retrofit rain gardens, street trees and permeable paving within existing urban areas.
2.71 Refer to Kickstarter Projects.
FIS14 – Review landscape management practices to ensure the retention of sea views
2.72 Landscape management practices should be reviewed to restore the availability of sea views, whilst balancing ecological and landscape considerations. Key locations include the south easterly facing slopes overlooking Goodwick Quay, sections of Marine Walk, Goodwick Moor as well as areas of public open space adjacent Penslade and The Slade. Selective woodland thinning operations also offer the opportunity to ensure pedestrian access routes and seating provision are preserved and reinstated where necessary. Effective delivery of this project would require consultation with South Wales Trunk Road Agent (SWTRA) and Pembrokeshire County Council (PCC) StreetCare / Amenity Maintenance Team.
FIS15 – Promote a recreational corridor along Afon Gwaun
2.73 Explore the opportunity to create a strategic recreational corridor stretching from the Wales Coast Path in Fishguard towards Cwm Gwaun, broadly following the route of Afon Gwaun. Fragmented sections of existing Public Rights of Way (PRoW) should be connected to provide an integrated pedestrian corridor.
Back to top
Previous Chapter:
Next Chapter:
Return to homepage: