Experience the Iron Age (Daily Saturday 1 April)
Your ancient adventure awaits! Come and visit our Iron Age village where you will meet friendly members of our tribe who will tell you all about life in the Iron Age. You will have the opportunity to have a go with a slingshot (weather permitting), watch a demonstration of an ancient craft or skill and be painted with beautiful blue patterns. A guided tour of the village is also included in your admission fee.
Experience the Iron Age Quiet Morning (Sundays 10am-12pm)
Every Sunday morning we offer Experience the Iron Age with no loud or noisy activities or demonstrations. Normal admission applies.
Taith Tywys Cymraeg (addas i ddysgwyr) 
Saturdays – July 1, August 5, and August 19 at 11 am
Although we can provide our sessions bilingually, these sessions are aimed at visitors who would like their experience entirely through the medium of Welsh. These sessions are also suitable for those who are learning Welsh. Normal admission applies.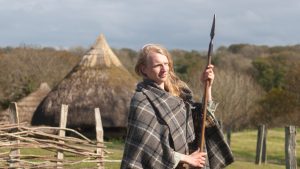 Family Activities
Prehistoric Activities (Mondays-Thursdays in school holidays)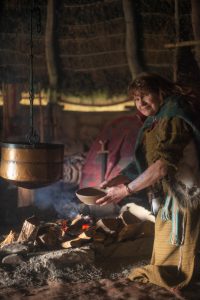 In these sessions there will be a variety of hands-on Prehistoric activities for you to try, including breadmaking. Enquire at reception upon arrival to find out what sessions will be running during your visit. Additional fee applies plus normal admission.
Ancient Skills Workshop
Wednesday 9, 16, 23 and 30 August 10.30am and 2pm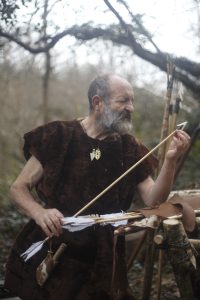 Survive the wild, prehistoric style! In this workshop you will learn survival techniques of our ancestors including the essential art of fire starting. Suitable for children aged over 7 accompanied by a paying adult.
Numbers limited to 6 per session.
£15 (includes admission to the Iron Age Village)
Festival of British Archaeology – Warrior Schools
25, 26 and 27 July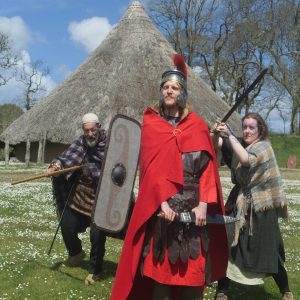 Take up arms at Castell Henllys and find out how people in the past fought with our new warrior schools, only for the Festival of British Archaeology. Each day allows you to discover combat techniques from a different time period – chose from:
Iron Age – Tuesday 25 July – Book Now
Roman – Wednesday 26 July – Book Now
Viking – Thursday 27 July – Book Now
Become a warrior! Learn how to wield a weapon, defend yourself with a shield and put it onto practice against your opponents. You can also get creative by designing and making your own shield. Pre-booking required. Age 8+ £3.00 per child plus normal entry. Free shield design only packs available for younger children.
Festival of British Archaeology – Experience Archaeology – Hands on Activity 
Friday 28 July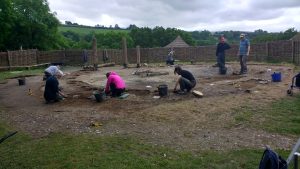 Pick up a trowel and discover what it takes to become an archaeologist. Find out how archaeologists find sites and excavate them, then have a go yourself. Use a metal detector, excavate an artefact to take home, and learn to draw like an archaeologist. Handle replica items from the site and archaeological material from our collection. Pre-booking required. Age 6+. £5 per child plus normal entry.
Hands on Lughnasadh Activities
Tuesday 1 August 10am-4pm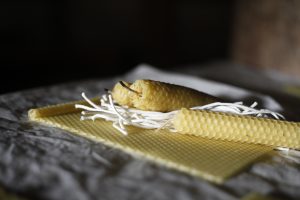 It is the Harvest festival, and the villagers are busy celebrating! Come and make your own beeswax candle, make prehistoric bread and train in the art of Iron Age warfare! Additional fee applies.
Family Foraging 
Saturday 26 August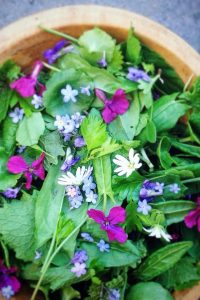 Join professional forager Jade Mellor on a wild food walk around Castell Henllys. We will seek out the tastiest seasonal plants all around the wild edges, foraging and tasting as we go.
Under the tipi we will go through our plants, have a cup of foraged tea and make a little jar of wildness to take home.
Places limited.
£20 per person (includes admission to the village)
Special Events
Festival of British Archaeology  – Fashioning the Past
Sunday 23 July 10am-4pm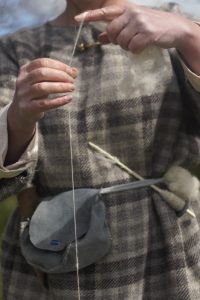 Explore Castell Henllys and discover how people in the past made clothes and other items out of costume from natural materials. Find out how people made themselves stand out with different fashions through the ages. Meet the Spinners, Weavers and Dyers who continue to use these techniques today.  Try your hand at spinning and weaving and make something to take home. Included with normal entry.
Festival of British Archaeology – Discover Archaeology 
Friday 28 July 10am-4pm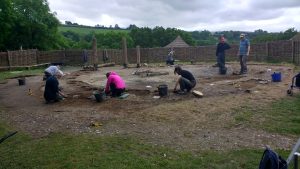 Meet the archaeologists. Find out how archaeology within the National Park is protected and discover what to do if you dig up any artefacts. Handle replica items from the area and archaeological material from our collection. Included with normal entry.
Calan Awst Lughnasadh Evening Celebration
Tuesday 1 August 6pm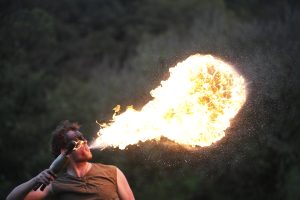 Come and join the tribe to celebrate the beginning of the harvest! There will be craft stalls, have-a-go sessions with live folk music by the amazing Gwylim Bowen Rhys at 7:30pm. The evening will end with a spectacular fire show and the ignition of our wickerman! Refreshments available to buy on site. £15 per person. Booking essential.
Collective Flight Syrcas 
Thursday 10 August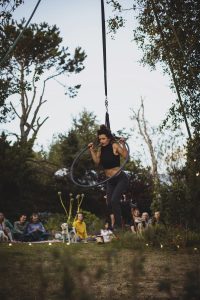 Try out some aerial and ground based circus skills. An introduction to the skill of balancing with a partner and your hands. Acrobalance, handstands and aerial skills suitable for ages 8+ booking essential.
12pm Aerial Circus Session – £30 per person, including admission to the village
2pm Groundwork Circus session – £20 per person, including admission.
Murmurations of Witches Garden
Thursday 10 August 6.30pm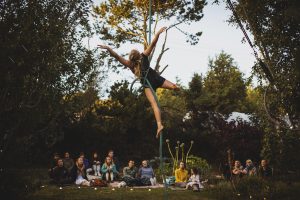 Rituals and ceremony, the cycles of light and dark are incorporated into these tales of persecuted and cherished wise women and explored through circus. Evoking spirits and conjuring stories through fragrant herbs, song, food and botany, inviting audiences to open their senses. £10 per person.
Roman Invasion!
Saturday 19 and Sunday 20 August 11am -4.30pm
(arena displays at 12.30pm and 2.30pm)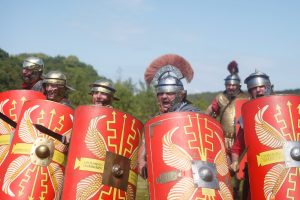 Fresh from their conquest of Anglesey, Roman soldiers of the Legio VIII Augusta MGV have come to Castell Henllys to complete their occupation of Wales! Come and find out about the Roman legions' way of life with crafts and activities included in admission price.
Adult- £12        Concession-£11        Child-£10    Family- £35
Gwerin wrth y Gwreichion – Folk by the Fire – Three Legg'd Mare
Saturday 19 August 7pm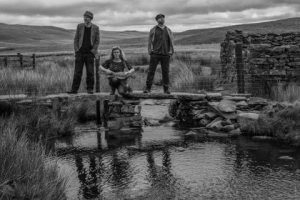 The Romans have taken over the site and are celebrating their harvest festival of Vinalia Rustica and there is entertainment to be had! Come and listen to the wonderful and talented Three Legg'd Mare with their collection of traditional folk songs!
£12