Experience the Iron Age (Daily From 1st of April)
Your ancient adventure awaits! Come and visit our Iron Age village where you will meet friendly members of our tribe who will tell you all about life in the Iron Age. You will have the opportunity to have a go with a slingshot (weather permitting), watch a demonstration of an ancient craft or skill and be painted with beautiful blue patterns. A guided tour of the village is also included in your admission fee.
Experience the Iron Age Quiet Morning (Sundays 10am-12pm)
Every Sunday morning we offer Experience the Iron Age with no loud or noisy activities or demonstrations. Normal admission applies.
Taith Tywys Cymraeg (addas i ddysgwyr), 11am
Saturday 3 June
Although we can provide our sessions bilingually, these sessions are aimed at visitors who would like their experience entirely through the medium of Welsh. These sessions are also suitable for those who are learning Welsh. Normal admission applies.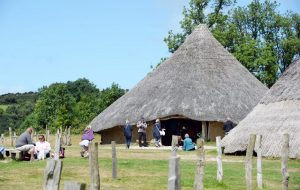 Family Activities
Prehistoric Activities (Mondays-Thursdays in school holidays)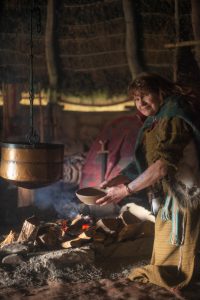 In these sessions there will be a variety of hands-on Prehistoric activities for you to try, including breadmaking. Enquire at reception upon arrival to find out what sessions will be running during your visit. Additional fee applies plus normal admission.
Special Events
Roman Invasion Saturday 3 and Sunday 4 June, 11am-4.30pm
(arena displays at 12.30pm and 2.30pm)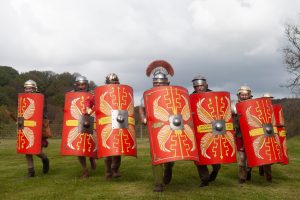 Fresh from their conquest of Anglesey, Roman soldiers of the Legio VIII Augusta MGV have come to Castell Henllys to complete their occupation of Wales! Come and find out about the Roman legions' way of life with crafts and activities included in admission price.
Adult- £12        Concession-£11        Child-£10    Family- £35
Sustainable Living Day Saturday 17 June, 10am-5pm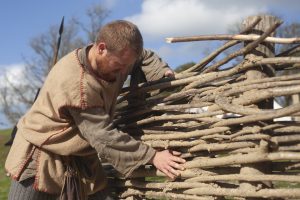 Be inspired and learn about the various ways we can green up our lives and live more sustainably. Learn about sustainable building methods, making clothes from natural fibres, eating with the seasons and so much more. You can have a go at making your own seed bombs, beeswax candles as well as various crafts using natural and recycled materials. Normal admission applies.